Tsai tours NASA's Johnson space center in Houston
President Tsai Ing-wen (蔡英文) on Sunday made the first-ever visit to a US federal agency by a Republic of China president when she toured NASA's Lyndon B. Johnson Space Center in Houston, Texas.
Tsai arrived in Houston on Saturday for her second transit stop in the US during a nine-day trip to Paraguay and Belize.
During her 27-hour stay in Houston, Tsai visited the Mission Control Center at the space center, where she was briefed by NASA flight director Royce Renfrew, toured the astronaut training area and saw a Soyuz spacecraft and space station simulators of US, Japanese and Russian astronauts.
A Presidential Office handout provided yesterday shows US astronaut Michael Fincke, left, on Sunday escorting President Tsai Ing-wen around the Lyndon B. Johnson Space Center in Houston, Texas, accompanied by center deputy director Vanessa Wyche.
Photo: EPA-EFE / Presidential Office
In a Facebook post afterward, Tsai said astronaut Michael Fincke, who accompanied her on the tour, told her that the International Space Station had flown over Taiwan three-and-a-half hours before her visit.
Tsai also posted photographs of Mission Control Center, asking her Facebook followers if they could recognize the place.
Asked if Tsai's space center tour would help boost Taiwan-US cooperation in space observation, National Space Organization (NSPO) Deputy Director-General Yu Shiann-jen (余憲政) yesterday said that he hoped cooperative relations would strengthen.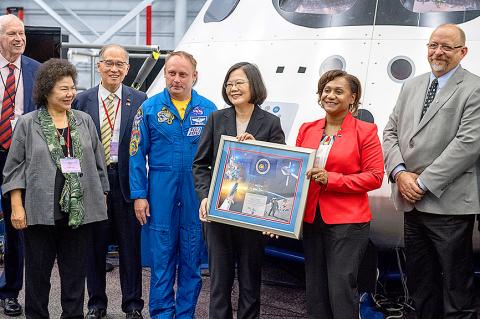 A Presidential Office handout shows, front row from left, Presidential Office Secretary-General Chen Chu, US astronaut Michael Fincke, President Tsai Ing-wen, Lyndon B. Johnson Space Center deputy director Vanessa Wyche and NASA flight director Royce Renfrew on Sunday at the NASA center in Houston, Texas.
Photo: EPA-EFE / Presidential Office
He hoped for progress "in both the intensity of cooperation and the depth of the issues involved," Yu said in Taipei.
Space missions are very expensive and most are undertaken through international collaboration, and Taiwan would like to contribute to space exploration, with international collaboration and NASA's guidance, Yu said.
Taiwan and the US have a long-standing cooperation in satellite development and weather data analysis, starting with the Formosat-3/COSMIC (constellation observing system for meteorology, ionosphere and climate) satellite program.
The second satellite constellation developed by Taiwan and the US, named Formosat-7/COSMIC-2, is expected to be launched later this year or early next year.
The main payloads and observation equipment on the satellites were provided by NASA, the NSPO said.
The Formosat-7 is expected to generate three to four times the volume of data generated by Formosat-3 and should greatly increase the amount of low-latitude atmospheric and ionospheric data available, it said.
The data would be incorporated into the Central Weather Bureau's forecast system to help improve its accuracy and to aid in climate observation, the NSPO said.
NASA payloads on Formosat-7 are to be used for the observation of "space weather" and the prediction of the ionosphere's possible impact on satellite communication, NASA said.
Comments will be moderated. Keep comments relevant to the article. Remarks containing abusive and obscene language, personal attacks of any kind or promotion will be removed and the user banned. Final decision will be at the discretion of the Taipei Times.