Letters help Texas woman find her Taiwanese family
A Texas woman on Wednesday met her Taiwanese relatives for the first time after a cross-continental search based on several letters from half a century ago.
The search for Donna Barber's relatives started on July 4, when Barber contacted police in Yilan County's Suao Township (蘇澳) on Facebook, hoping to find the family of her mother, who was from Taiwan and passed away about two years ago.
Barber's mother married a US citizen in 1961 and went to live there. She was unable to speak with her family in Taiwan often, due to limited communication technology at the time.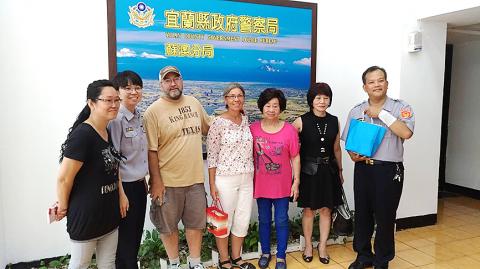 Donna Barber, center, and her husband, third left, Barber's aunts Yeh Chien Mei-hua, second right, and Lan He Ah-yeh, third right, are pictured in Yilan County's Suao Township on Wednesday.
Photo: CNA
All Barber had were four letters written in Chinese from the late 1960s and her mother's family's old address, she said on Facebook.
Local police tried to visit her mother's family at the address, but found that they had moved away.
Using information collected from the childhood memories of a local police officer and her mother's former neighbors, police eventually found Barber's aunt, who still lives in Suao with her family.
Barber and her aunt cried and hugged each other when they met on Wednesday, and the 57-year-old said her aunt looked very much like her mother.
Barber said she hopes to bring some of her mother's remains back to Suao.
Comments will be moderated. Keep comments relevant to the article. Remarks containing abusive and obscene language, personal attacks of any kind or promotion will be removed and the user banned. Final decision will be at the discretion of the Taipei Times.