KMT's Lin Wei-chou faces loss of party membership
The Chinese Nationalist Party's (KMT) Hsinchu chapter's disciplinary committee yesterday voted unanimously to strip KMT Legislator Lin Wei-chou (林為洲) of membership for contravening the party's charter and actions damaging to its integrity.
Nine of the 11 chapter committee members attended the meeting, the chapter said.
The decision has been forwarded to the KMT Party Disciplinary Committee and would take effect once the KMT Central Standing Committee approves the motion, the party said.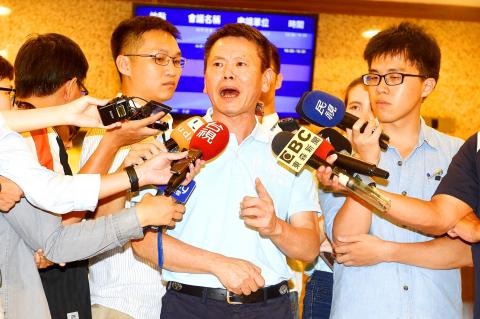 Chinese Nationalist Party (KMT) Legislator Lin Wei-chou speaks to reporters at the Legislative Yuan in Taipei yesterday.
Photo: George Tsorng, Taipei Times
The KMT's candidate for Hsinchu County commissioner, Hsinchu County Deputy Commissioner Yang Wen-ke (楊文科), said he was sorry to hear about the outcome, but added that he would abide by such decisions.
Yang said he would try to meet with Lin to discuss the issue, and perhaps work together to solidify the party's support in the county.
"If a party is focused on factions, benefits and who is stronger, they are no different than a gang of mobsters," Lin said.
Lin said that he stood by the results of the party's primaries in November last year and had followed democratic procedures thoroughly, but was greeted by a circumvention of proper procedure and personal attacks from KMT Chairman Wu Den-yih (吳敦義) and the Hsinchu chapter's director.
"I really do not know how I am in the wrong," Lin said.
Lin reaffirmed his determination to run for county commissioner, saying that he was more concerned with the public's demands and expectations.
Asked whether the Central Standing Committee's members should be dismissed from the party, Lin said that the KMT has come under fire because it has been changing the rules to suit itself.
This has led to further mistrust of the party due to factionalism and shady dealings, he said, adding that, according to the KMT's charter, those "who have severely impinged on the party's reputation" should be dismissed from the party.
Asked if he would return to the KMT after Wu steps down as chairman, Lin was noncommittal, saying: "That is an expectation that is difficult to fulfill."
Comments will be moderated. Keep comments relevant to the article. Remarks containing abusive and obscene language, personal attacks of any kind or promotion will be removed and the user banned. Final decision will be at the discretion of the Taipei Times.