Fabric Diamond Sutra on show at Hsinchu museum
A calligraphy work said to be the nation's largest on fabric is on show at the Hsinchu County Museum of Art alongside more than 60 works by calligrapher Lin Sen-hui (林森輝).
The work is a handwritten copy by Lin of the Chinese text of the Diamond Sutra.
The scroll took Lin four-and-a-half years to complete, is 16.5m long and 2m wide, and has 5,837 Chinese characters.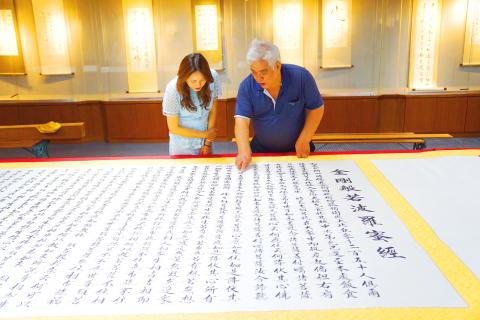 Hsinchu County Cultural Affairs Bureau Director Chang I-chen on Friday looks as calligrapher Lin Sen-hui points to a character in one of his 60 calligraphy pieces that are being exhibited at the Hsinchu County Museum of Art.
Photo: Huang Mei-chu, Taipei Times
The Diamond Sutra is more than 5,000 characters long, and he would have had to start over again if he had made a mistake, he said.
To avoid that, Lin "cleansed" himself and spent more than an hour reciting the text each time before he began writing, he said.
Lin said he chose to work with fabric because it can last 1,000 years, while paper lasts at most 100 years.
Lin's works are permanently exhibited in Houston, Texas, and Yokohama, Japan, Hsinchu County Cultural Affairs Bureau Director Chang I-chen (張宜真) said.
The artist has also contributed to the preservation of calligraphy culture, she added.
The exhibition opened on Wednesday and ends on Aug. 5.
Comments will be moderated. Keep comments relevant to the article. Remarks containing abusive and obscene language, personal attacks of any kind or promotion will be removed and the user banned. Final decision will be at the discretion of the Taipei Times.