Police officer sentenced to eight years for corruption
The Taiwan High Court's Kaohsiung branch yesterday upheld a guilt verdict against a Kaohsiung police officer, sentencing him to eight years in prison and depriving him of his civil rights for three years for taking bribes in contravention of the Anti-Corruption Act (貪污治罪條例).
The court also seized NT$5.73 million (US$187,365) that former Kaohsiung City Police Department Sanmin (三民) Second Precinct chief Lee Shih-chang took in bribes.
Lee had appealed the first ruling by a district court on the grounds that his punishment was too harsh and sought a reduced sentence, but the High Court rejected his appeal.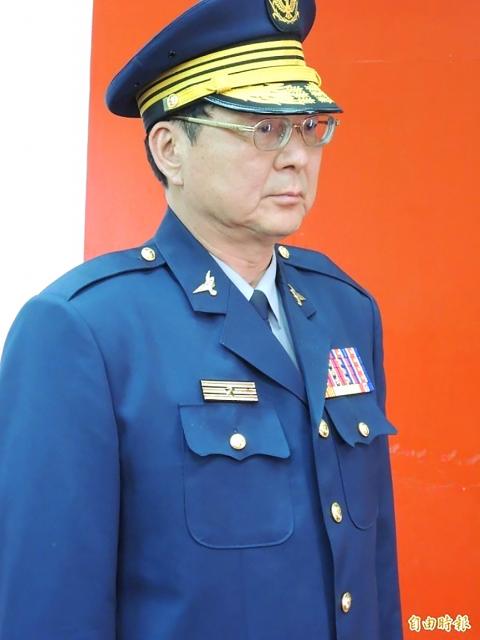 Former Kaohsiung City Police Department Sanmin Second Precinct chief Lee Shih-chang is pictured in an undated photograph.
Photo: Huang Chien-hua, Taipei Times
The district court also sentenced police supervisor Lin Chen-hung (林振宏) to 16 years in prison and deprived him of his civil rights for six years, while Yeh Chia-hsiung (葉嘉雄), who transfered the bribe money, was given an 18-month prison term.
A probe was launched in October 2015 on allegations that Kaohsiung police officers were taking bribes to "provide protection" to underground gambling businesses.
Investigators found that Lee, then head of the Kaohsiung City Police Department's Duty Dispatch Division, was the highest-ranking police officer involved in the case.
Lee and other police officers received bribes on a semi-regular basis in 2011 and 2012 from the proprietors of electronic game parlors, unlicensed casinos and other illegal betting operations in the city, investigators said.
Lee arranged police patrols and controls to avoid the businesses run by the colluding proprietors, and gave the illegal businesses advance warning of police raids, investigators said.
The proprietors pooled the bribe money and gave it to Yeh to be handed over to Lee, they said, adding that this was done 21 times for a total of NT$11.46 million, and Lee gave half of the money to Lin.
Comments will be moderated. Keep comments relevant to the article. Remarks containing abusive and obscene language, personal attacks of any kind or promotion will be removed and the user banned. Final decision will be at the discretion of the Taipei Times.