Prosecutors indict 10 police officers for taking bribes
The Taipei District Prosecutors' Office yesterday indicted 10 Taipei police officers on corruption charges for allegedly taking bribes from nightclub proprietors in the city's Zhongshan District (中山).
The accused include Zhongshan Precinct First Police Station Chief Lin Chung-cheng (林崇成) and Second Lieutenant Wu Yi-ming (吳翊銘) and Wanhua Precinct Dali Street Police Station Deputy Chief Hou Chao-bin (侯朝斌), as well as Junior Captain Tseng Chi-hsun (曾紀勳) and detective Yen Tzu-en (顏子恩), the office said in a statement.
Nightclub proprietor Wu Hui-ling (巫蕙玲) and two of her staff, surnamed Hu (胡) and Huang (黃), were also indicted for offering bribes and other offenses against morality, the statement said.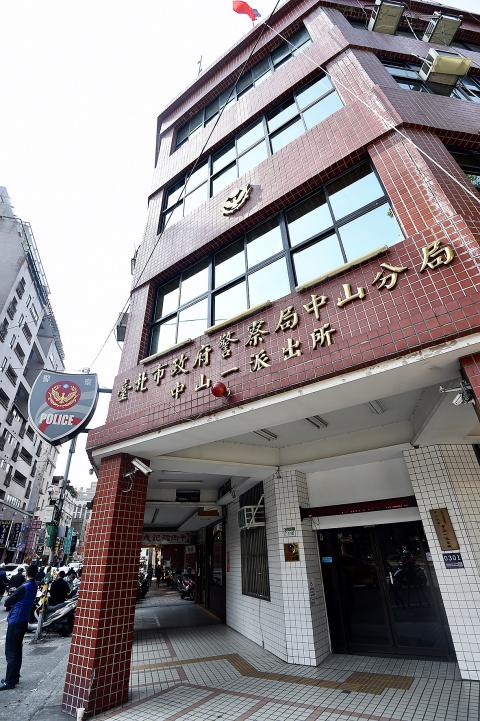 The front entrance of Zhongshan Precinct First Police Station is pictured in Taipei on March 12.
Photo: Chien Jung-fong, Taipei Times
It added that all 10 police officers were connected to Zhongshan Precinct First Police Station, which has jurisdiction over the surrounding neighborhood, which is lined with numerous nightclubs, KTV parlors and piano bars, mainly along Linsen N Road and Zhongshan N Road.
They have been indicted for taking bribes and other breaches of the Anti-Corruption Act (貪污治罪條例), Taipei Deputy Chief Prosecutor Chou Shih-yu (周士榆) said.
Lin was also indicted on money laundering charges, as investigators found that he had deposited bribes in his wife's bank accounts, he said.
An investigation found that Wu and her staff made about NT$75 million (US$2.46 million) in illegal profits from the sex trade over the past 13 years and paid monthly bribes totaling about NT$7.8 million to police officers at the station in that period, the office said.
The case stemmed from a probe last year into illegal prostitution at Li Bang Nightclub, which was operated by Wu and allegedly offered the sexual services of hostesses and escorts.
Due to that investigation and other issues, Wu last year closed the club and opened Akatsuki Nightclub, which caters to Japanese clientele, and continued to pay bribes to ensure "protection" from police and to provide warning of impending raids by other law enforcement units, the office said.
Further investigations found that Wu and her staff contacted police and transferred bribes through alcohol vendor Pao Ming-pu (鮑銘璞), an acquaintance of Wu's who maintained good connections with the police, it said.
"These police officers who took bribes have seriously eroded the image of civil servants who are supposed to be clean, honest and working diligently," the office said.
Comments will be moderated. Keep comments relevant to the article. Remarks containing abusive and obscene language, personal attacks of any kind or promotion will be removed and the user banned. Final decision will be at the discretion of the Taipei Times.