Legislative Yuan becomes observer at PARLACEN
'VIVA TAIWAN': Legislative Speaker Su Jia-chyuan and Central American Parliament President Tony Raful touted the two sides' commitment to democracy and peace
The Legislative Yuan yesterday became a permanent observer of the Central American Parliament, also known as the PARLACEN, with the signing of a special agreement between the two lawmaking bodies, which vowed to deepen ties between Taiwan and Central American nations and to bolster collaborations on trade, economic development, and promoting human rights and democratic values.
At the signing ceremony at the Legislative Yuan in Taipei, PARLACEN President Tony Raful conferred a medal on Democratic Progressive Party (DPP) Legislator Chang Hung-lu (張宏陸), welcoming Chang as the Legislative Yuan's representative to PARLACEN.
Raul and Legislative Speaker Su Jia-chyuan (蘇嘉全) signed and exchanged the special agreements before each made a speech.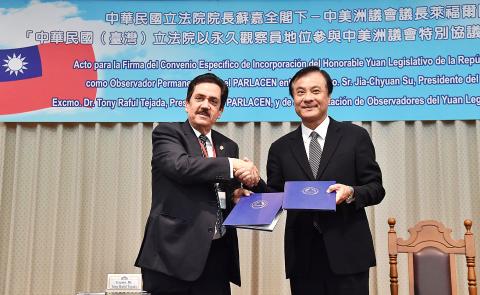 Legislative Speaker Su Jia-chyuan, right, and Central American Parliament president Tony Raful shake hands during a signing ceremony at the legislature in Taipei yesterday.
Photo: CNA
It is an honor for PARLACEN that the Legislative Yuan has become one of its permanent observers, which means that it can now take part in projects initiated by PARLACEN's member states and that the bond between Central American nations and Taiwan has become even stronger, Raful said.
While Taiwan and PARLACEN are separated by a great distance, their shared visions regarding national development and furthering the interests of their people are the foundation on which both sides can bolster collaborations, he said.
Taiwan and PARLACEN also have many shared values, such as democracy, human rights, environmental protection, the hope to tap into new markets and most importantly, the pursuit of peace, he said.
Taiwan and Central American countries thrive on mutual assistance, and it is his hope that Taiwan and Central American countries could take exchanges in economy, trade politics and social development to the next level, he said.
"I speak today on behalf of all PARLACEN member states, that Taiwan is not alone in the international society. The PARLACEN is your strongest support," Raful said.
In an apparent act of improvisation, Raful, after taking a photograph with Su and Chang, signaled toward an interpreter and chanted: "Viva the Legislative Yuan of the Republic of China. Viva PARLACEN, Viva Republic of China, Taiwan."
Touting the occasion as a "historic moment," Su said it is an honor for the Legislative Yuan to become a permanent observer of PARLACEN, to which he extended his highest respect and gratitude.
The signing of the special agreement shows that the Legislative Yuan's accomplishments over the years have won the recognition of the international community and that Taiwan has made its mark on the world with its democratic values, Su said.
Despite the great distance separating the Legislative Yuan and PARLACEN, their hearts are close together thanks to their shared values of protecting democracy and pursuing peace, which is the main reason for the Legislative Yuan's application to become its permanent observer, he said, adding that he hopes the two bodies can develop a never-changing "siblings' love."
PARLACEN was founded in 1991 and has six member states: Guatemala, El Savador, Honduras, Nicaragua, Panama and the Dominican Republic.
Taiwan became an observer of PARLACEN in 1999.
Comments will be moderated. Keep comments relevant to the article. Remarks containing abusive and obscene language, personal attacks of any kind or promotion will be removed and the user banned. Final decision will be at the discretion of the Taipei Times.