INTERVIEW: Tainan Art Museum aims to clarify, display history
'FOR THE PEOPLE': In addition to research centers and exhibitions, the museum plans to offer something for everyone, including a cafe, rest spaces and shopping
"As long as the lights are on at the Tainan Art Museum, everyone is welcome," museum director Pan Fan said as the museum — billed as a "museum for the people" — approaches its opening at the end of the year after seven years of preparation.
As the first art museum in Taiwan founded as an independent administrative institution, the Tainan Art Museum is informed by Japan's experience, Pan said.
Such institutions emphasize independence, and even though they are under government supervision, they can operate independently, he said.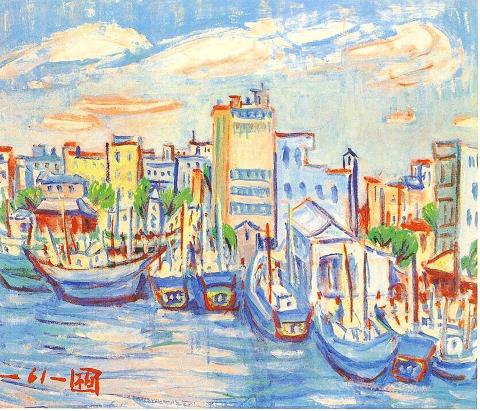 A painting by Taiwanese painter Kuo Po-chuan is pictured in an undated photograph.
Photo: Screen grab from the Internet
A relaxation of hiring restrictions is particularly important to the cultural field, in which professional knowledge and background are especially needed when it comes to employment, Pan said.
The public sector has its own hiring standards, while the appointment of civil servants through an examination process might not necessarily apply to the cultural field, he said.
The relaxation of the restrictions and administrative independence give the museum more flexibility when hiring professional staff and will help it develop in a more professional direction, he added.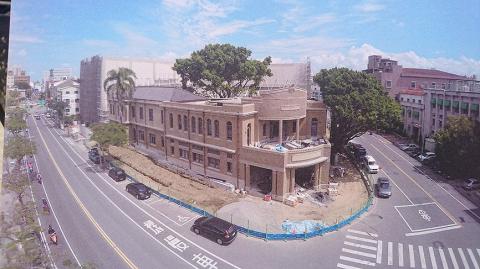 The Japanese colonial-era Tainan Police Department undergoes work to transform it into part of the Tainan Art Museum on April 3.
Photo: Liu Wan-chun, Taipei Times
However, such independence means that the museum would need to raise 10 percent of its own funds. The remaining 90 percent is currently provided by the Tainan City Government.
While 10 percent is not high, for a large art museum — especially a new one — it will not be an easy task.
Pan said he believes that partial self-funding could become a source of motivation for the museum, and help it position itself and discover its own strengths.
Without the need to generate a part of its own income, the museum could easily become uncreative, he said.
Nevertheless, the proportion of self-generated income needs to be appropriate, because culture is not a highly profitable business, he added.
Pan, who assumed the role of museum director in February, was already on its board of supervisors when it was established on March 17 last year.
He said that as the director of a museum that is an independent administrative institution, his role is more akin to that of a CEO.
As director, he could find diverse ways of positioning Taiwanese art history, he added.
While the Tainan Cultural Affairs Bureau is responsible for infrastructure, the museum is to focus on defining its operating philosophy, strategy, direction and goals, Pan said.
It would also set a precedent for laws and regulations on independent administrative institutions, he said.
The museum, located in Tainan's Jhongsi District (中西), consists of two main buildings: the Japanese colonial-era Tainan Police Department that was completed in 1931 and has been restored and expanded, and a new, pentagonal structure inspired by the Delonix regia flower and designed by architect Joe Shih (石昭永) and Japanese firm Shigeru Ban Architects.
Pan said he hopes that, as a "museum for the people," the Tainan Art Museum will not only develop a symbiotic relationship with the city, but also become a base for Taiwanese art history and research.
To that end, he said the museum plans to create two research centers: one on the development of Taiwanese art and the other on the scientific aspect of art.
While the latter concept might be unfamiliar to Taiwanese, it is derived from a French concept of elevating the field of art conservation to a science, he added.
Typically, an artwork leaves a conservation center once it has been restored, but the museum wants to understand why the artwork was damaged in the first place, Pan said.
Like a hospital for art, the center is to conduct research on examining, preserving and repairing artwork, he said.
Thanks to support from the central government, the project is to receive NT$30 million (US$984,220) from the Forward-looking Infrastructure Development Program, he added.
To expand its audience, the museum also plans to include a center for children's art, of which board of supervisors chairman and artist Chen Huei-tung (陳輝東) is an expert, Pan said.
Amid public calls for equality for older people, there is much the museum can offer, such as exhibitions, a cafe, spaces for rest and even shopping, he said.
"As long as the lights are on at the Tainan Art Museum, everyone is welcome," Pan said, adding that it would differ from elitist museums that only follow Western trends.
When it has organized and clarified Taiwan's 400-year history and attracts people of all ages, allowing them to experience the joy of appreciating beauty, it would have become a museum that is approachable for everyone, he said.
Regarding the museum's inaugural exhibition, Pan said it would aim to respond to the history, development of art and current trends in Tainan.
It would feature the latest technology, as well as a traditional sense of beauty, he said, adding that the museum has already selected a curator and team for the exhibition.
For contemporary exhibitions, the museum is to work with researchers based in Tainan, as well as Tainan National University of the Arts, he added.
The Taipei Fine Arts Museum opened more than 30 years ago, while the Kaohsiung Museum of Fine Arts is also approaching its 30th anniversary, Pan said.
While museums that were built first saw earlier success, the focus of museums that have come later is to find their own position, he said.
What is important is how the Tainan Art Museum differs from other museums, contributes to Tainan and promotes art from Tainan — and Taiwan in general — to the world, he added.
Pan said he hopes that it will become an important milestone for the development of culture in Taiwan in the 21st century, and that it will develop symbiotically with Taiwanese culture, unite the cultural identity of Tainan residents and use creativity to elevate the city's competitiveness.
Comments will be moderated. Keep comments relevant to the article. Remarks containing abusive and obscene language, personal attacks of any kind or promotion will be removed and the user banned. Final decision will be at the discretion of the Taipei Times.