Beijing urged to release rights lawyers
CALL FOR HELP: A coalition of human rights groups declared July 9 Chinese Human Rights Lawyers' Day and honored two Chinese rights lawyers who have disappeared
A coalition of human rights groups and Democratic Progressive Party (DPP) Legislator Yu Mei-nu (尤美女) yesterday called on Beijing to release the lawyers arrested in Beijing's "709 crackdown" of 2015 as they marked its third anniversary.
While the crackdown is considered the largest ever on the legal profession in China, it was only the beginning of a series of clampdowns.
As of May 17 this year, more than 321 human rights lawyers and civil rights advocates, as well as members of their families, have been arrested, summoned for questioning, banned from leaving the country and placed under surveillance or house arrest, the China Human Rights Lawyers Concern Group said in a statement yesterday.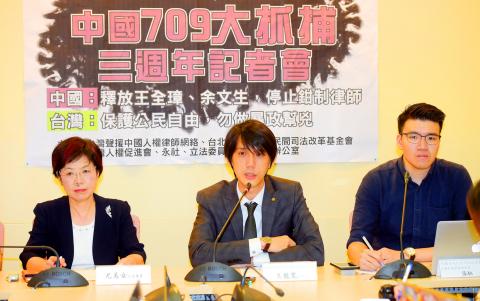 Democratic Progressive Party Legislator Yu Mei-nu, left, and lawyer Wang Lung-kuan, center, attend a news conference in Taipei yesterday calling on Beijing to release lawyers arrested in a crackdown in 2015.
Photo: Huang Yao-cheng, Taipei Times
As part of efforts to raise awareness of the issue, a coalition of human rights groups from around the world last year jointly declared July 9 as Chinese Human Rights Lawyers' Day, and this year they are honoring Chinese human rights lawyers Wang Quanzhang (王全璋) and Gao Zhisheng (高智晟), Taipei Bar Association director Wang Lung-kuan (王龍寬) told a news conference in Taipei yesterday.
Wang Quanzhang, who disappeared in July 2015, was charged with state subversion, but no official indictment has been made so far, Wang Lung-kuan said.
Gao's family members said he disappeared in July last year.
Before that, he was being closely monitored by the Chinese government and was banned from leaving his hometown in Shanxi Province after completing a three-year prison sentence for defending Falun Gong practitioners.
As a member of the international community and China's neighbor, Taiwan can do more to help support Chinese human rights advocates, Wang Lung-kuan said.
"A draft refugee act is already under review at the Legislative Yuan and as far as we know neither the DPP nor the Chinese Nationalist Party (KMT) is opposed to it. The bill should be passed as soon as possible," he said.
Last month, Chinese dissident Huang Yan (黃燕), who has been granted refugee status by the UN, came to Taiwan seeking political asylum, which shows that Taiwan can provide much-needed help to Chinese political refugees, he added.
Taiwan can also better support Chinese political dissidents by protecting their freedom of speech, assembly and other rights while they are in the nation, Taiwan Association for Human Rights secretary-general Chiu Ee-ling (邱伊翎) said.
A number of Taiwanese have allegedly been recruited by Chinese authorities to collect evidence against Chinese dissidents engaging in pro-democracy activities in Taiwan, she said.
"Evidence collected by Taiwanese led to the conviction of Chinese human rights lawyer Zhou Shifeng (周世鋒) and human rights advocate and pastor Hu Shigen (胡石根) on charges of state subversion," Chiu said.
"They were sentenced to seven and seven-and-a-half years in prison respectively. However, the New Taipei District Prosecutors' Office decided not to press charges [against the Taiwanese] on grounds that they were not government employees and their actions were unrelated to national security," she said.
Taiwan's defining difference from China is being a democracy that values freedom and human rights, Yu said. "If we cannot stand up to fight for such values, how can we ask other nations to do the same for us?"
In a joint statement issued yesterday, Yu and more than 50 civic groups and political organizations from Taiwan, Hong Kong, Japan, the Netherlands and the US — including the Judicial Reform Foundation, Japan's Human Rights Now and the Netherlands' Lawyers for Lawyers — urged Beijing to immediately release all human rights lawyers arrested during the crackdown.
Beijing should also reverse their guilty verdicts, return their license to practice law and end all forms of political repression against them, they said.
Comments will be moderated. Keep comments relevant to the article. Remarks containing abusive and obscene language, personal attacks of any kind or promotion will be removed and the user banned. Final decision will be at the discretion of the Taipei Times.