Eswatini to skip Chinese Africa summit
COMING HOME: Two Taiwanese remaining at the former Taiwanese embassy in Burkina Faso are about to return home following its closure, the Ministry of Foreign Affairs said
Taiwan's sole remaining African ally, Eswatini, formerly known as Swaziland, would not attend the Forum on China-Africa Cooperation (FOCAC) scheduled to take place in Beijing in September, the Ministry of Foreign Affairs said yesterday.
The nation's relations with Eswatini are "unchanging," Department of West Asian and African Affairs Director-General Liu Bang-zyh (劉邦治) told a news conference in Taipei, adding that he is confident about Taiwan's diplomatic relations with the country.
Eswatini has informed Taiwan that it has not received an invitation to the FOCAC Summit and King Mswati III of Eswatini has also said that he would not attend the summit, Liu said.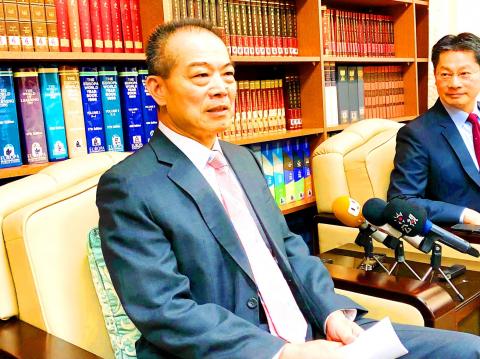 Department of West Asian and African Affairs Director-General Liu Bang-zyh speaks at a news conference at the Ministry of Foreign Affairs in Taipei yesterday.
Photo: Lu Yi-hsuan, Taipei Times
Chinese Minister of Foreign Affairs Wang Yi (王毅) earlier this year said he hoped to make a "family portrait" of China and all African nations at the summit, which is held every three years.
Chinese pressure on Taiwan's allies has existed for more than a day or two, Liu said, adding that each has at some point been pressured by China.
Meanwhile, Ambassador to Eswatini Thomas Chen's (陳經銓) health has improved, but he needs more time to rest and recover, Liu said.
Chen was hospitalized in South Africa after being found seriously ill in his office in Eswatini on June 22.
Chen has reportedly been transferred back to Eswatini, where he is receiving further treatment.
King Mswati III and other Eswatini officials have expressed their concern about Chen's condition and have wished him a swift recovery, Liu said.
Chen's absence would not affect diplomatic relations, he said, adding that plans between the two nations to cooperate on embassy affairs are going smoothly.
Asked whether the ministry would name a replacement for Chen, Liu said that it would be up to senior officials and he has no knowledge of such plans.
In related news, two remaining Taiwanese staffers at the former Taiwanese embassy in Burkina Faso after that country severed ties with Taiwan on May 24 are to return home soon, the ministry said.
Burkina Faso has already withdrawn its embassy staff from Taipei, it added.
Comments will be moderated. Keep comments relevant to the article. Remarks containing abusive and obscene language, personal attacks of any kind or promotion will be removed and the user banned. Final decision will be at the discretion of the Taipei Times.