Ex-county head to run for Tainan mayor as independent
CHANGING COLOR: Su Huan-chih, who left the DPP in March, received praise from KMT Tainan mayoral hopeful Kao Su-po, who said the DPP's hold on power in the city is waning
Former Tainan county commissioner Su Huan-chih (蘇煥智) yesterday formally announced that he is running as an independent candidate for Tainan mayor in November's nine-in-one elections.
Su decided to run as an independent because the pan-green camp already has a nominee, but he feels that he is the best candidate given his familiarity with the city, he told a news conference in Yongkang District (永康).
Su on March 3 announced that he would leave the Democratic Progressive Party (DPP) and run for Taipei mayor, but yesterday said he decided to return to Tainan because the media in Taipei were focused on the competition between the DPP and Chinese Nationalist Party (KMT) candidates.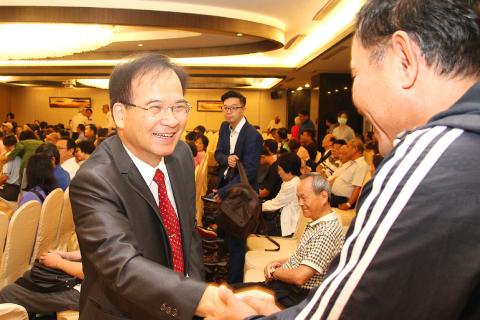 Former Tainan County commissioner Su Huan-chih, left, yesterday shakes hands with a supporter at a news conference in Tainan.
Photo: CNA
Although he originally hoped to promote local autonomy in Taipei's districts, boroughs and communities "so that everyone could contribute to the city," Su found that he could not get his policies across to the public due to the media's focus on the two main parties, he said.
While there would be some voter overlap between him, DPP nominee Huang Wei-che (黃偉哲), independent candidate Hsu Chung-hsin (許忠信) and KMT nominee Kao Su-po (高思博), Su said that he could solve the city's problems.
His time as county commissioner made him very familiar with economic and regional development, and his successes gained him many supporters, he said.
Property taxes in Tainan rose 81 percent when Premier William Lai (賴清德) was its mayor and the city collected back taxes going back years, which affected 120,000 residents, he said.
Su vowed to stop collecting back taxes, return those already paid and formally apologize to the city's residents, he said.
Kao yesterday said that Su was more capable at municipal administration than his "apprentice" Huang, adding that Su offers city residents a better choice.
Huang mistakenly believes he could "win lying down," but the DPP's hold on power in Tainan is waning, Kao added.
Comments will be moderated. Keep comments relevant to the article. Remarks containing abusive and obscene language, personal attacks of any kind or promotion will be removed and the user banned. Final decision will be at the discretion of the Taipei Times.