INTERVIEW: Beijing's use of economic power a growing concern
Freedom House senior vice president for programs Lisa Dickieson, in an interview on Wednesday with 'Taipei Times' reporter Stacy Hsu and 'Liberty Times' (sister newspaper of the 'Taipei Times') reporter Lu Yi-hsuan, voiced concern over China's use of its economic power to pressure international airlines into listing Taiwan as a Chinese territory
Taipei Times (TT): In Freedom House's 2018 report, the US saw a decline in its overall ratings. This deterioration of democracy in the US has raised concerns that authoritarian countries like China and Russia could seize the opportunity to export its authoritarianism. What can be done to stop this trend?
Lisa Dickieson: As you have seen from our reports, democracy has been in decline for 12 consecutive years. Freedom House believes it is the biggest crisis of democracy since the end of the Cold War.
First, key countries we thought were democratizing and on a democracy trajectory are now pivoting away from democracy; this includes Turkey, Poland, Hungary, Tanzania and Tunisia.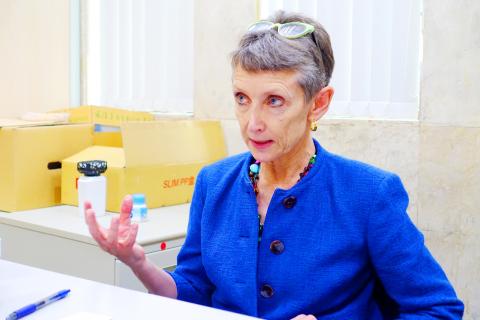 Freedom House senior vice president for programs Lisa Dickieson gestures during an interview in Taipei on Wednesday.
Photo: Lu Yi-hsuan, Taipei Times
Secondly, we are seeing increasing challenges in consolidating democratic states, not only in Europe, but also in the US.
Lastly, we are seeing the world's two most powerful authoritarian states, Russia and China, are becoming increasingly repressive internally. They are also seeking to export their model externally and interfere in democratic states abroad.
Another key factor we are very concerned about is the retreat of the US as a global leader on this issue. The US was the global leader after World War II in helping build the international rules-based order that has provided us with peace and prosperity for over 70 years.
We think the US' retreat is a very dangerous trend because in the absence of global democratic leadership, it creates a vacuum and the autocrats will come in and fill that.
One of the key elements we think is very important in counteracting these trends and defending democracy is for like-minded organizations, civil society organizations and democratic states to be working together in solidarity and alliance, on regional as well as on the global level.
It is also very important to continue to diagnose the problems in a very granular way.
The pioneering reports Freedom House has created since 1973 break democratic systems down into concrete elements. Then we can assess where we are seeing a weakness and assess trends over time, as well as following whether a country is going up or down or staying the same.
Another thing we believe is critical for stemming these trends is political leadership and support of democracy. We can, as a democracy organization, give activists on the front lines concrete support, but they also need intangible political support that comes from democratic nations.
Freedom House recognizes that the causes for democratic decline are very complex and there are no easy or fast solutions.
However, we believe that working in solidarity and alliance with like-minded organizations and nations, being strategic, rebuilding citizen confidence in democracy and tending to the democratic shortcomings in our own democratic states, are all key steps in the right direction.
Liberty Times (LT): With the US' recent withdrawal from the UN Human Rights Council, will it further impact the nation's contribution to the international community on the issue?
Dickieson: We put out a statement about the withdrawal of the US from the Human Rights Council. We are very disappointed with that. We believe the US should continue to participate in these institutions. We recognize that not all institutions are perfect, probably few are, but it is important for the US to stay to continue to be in the arena.
We need to be there to represent our views and values and to, in some cases, try to inform these institutions if they need it. We have to be there to be able to do that.
TT: China has been ratcheting up its pressure on international airlines to list Taiwan as a Chinese territory. Do you think this kind of practice could further erode democracy in the region or worldwide? What can be done to stop this?
Dickieson: We are very concerned about that. But again, I do not think we have all the answers of what can be done. We recognize this kind of pressure that China is placing not only on Taiwan or Hong Kong, but also [on other countries] through the use of its economic power is of great concern. It provides it [Beijing] with the ability to have leverage that is very hard not only for countries and nations to resist, but also for the private sector.
It is [a] very difficult [issue because] the pressure China is putting on is, in many cases, purely economic. Of course economic pressure and influence can lead to political pressure, so it is a great concern to us. In terms of what is the role of the private sector in combating this kind of issue, it is a question we in the civil society have been trying to grapple with.
TT: Though Taiwan has been regarded as a regional frontrunner in gender equality, we have been dragging our feet in the area of LGBTI rights. How could we better protect the rights of the LGBTI community and other gender minorities in Taiwan and in Asia?
Dickieson: An area that Freedom House has been working a lot on is the rights of marginalized populations. We focus in our international work on building capacity by civil society actors and activists to advocate to government authorities on basic freedoms of assembly, association, expression and belief.
What we have seen in these authoritarian countries is they often select particular populations to target and restrict their rights. One of the marginalized populations, obviously, is the LGBTI community.
What we are doing is a couple of things. We help them relocate or provide them with urgent assistance for hiring a lawyer or for taking other security measures to keep themselves safe.
We are also building capacity of civil society organizations that can help advocate for greater acceptance of LGBTI people over the longer term.
LT: There have been rumors that Freedom House has expressed an interest in setting up a local office in Taiwan. Could you tell us more about this?
Dickieson: I know that has been discussed in the past, but I can say we do not have any current plans to open an office here. I won't say it will never change, but at this time there are no specific plans.
Publication Notes
Comments will be moderated. Keep comments relevant to the article. Remarks containing abusive and obscene language, personal attacks of any kind or promotion will be removed and the user banned. Final decision will be at the discretion of the Taipei Times.