Democracy is Beijing's worst enemy, Lee says
China's worst enemy is that it does not genuinely embrace democracy and freedom, and Taiwan, which does, will not be its enemy, former president Lee Teng-hui (李登輝) said on Sunday in Japan.
Lee made the remarks at a dinner gathering with Taiwanese expatriates in Okinawa, in which he said that Taiwan would someday present itself on world stage with its own name.
In the 21st century, China has become an assertive player on the economic, political, military and technological fronts, but it is seen as a hegemony, not a civilized country upholding the ideas of democracy and freedom, Lee said.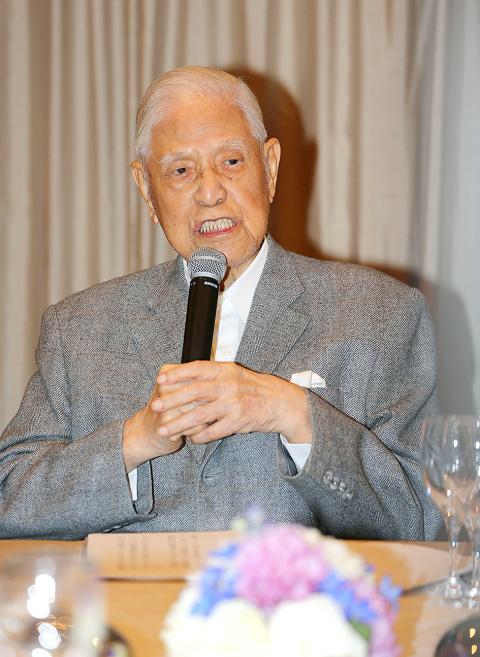 Former president Lee Teng-hui speaks at a dinner gathering with Taiwanese expatriates on Sunday in Okinawa, Japan.
Photo: CNA
China has become the "most destabilizing factor" in Asia and has caused disturbances that threaten the security of countries in the region, he said.
Its ambitious Belt and Road Initiative — a scheme focused on investing large sums of money in infrastructure development in targeted countries — will turn many of the countries into "economic colonies of China," he said.
An overbearing China is felt most keenly by Taiwan because China has more than 1,000 missiles targeted at Taiwan, frequently flown an array of military aircraft around Taiwan, lured away its diplomatic allies and obstructed its international participation, he said.
Economically, China has continued to steal technologies from Taiwan, offered lucrative packages to poach Taiwan's human resources, and pressed Taiwanese businesspeople in China to give up their political beliefs in favor of China's, Lee added.
China has also tried to build up its networks of operatives in Taiwan by offering money or using seduction to lure or disturb Taiwanese society, he said.
On one hand, China has coined the term "Chinese dream" to promote the idea of a "Greater China," while on the other, it has employed the so-called "1992 consensus" to uphold its "one China" principle to suppress the development of Taiwan, Lee said.
Beijing's use of a variety of tactics, including verbal intimidation, military threats, economic coercion, social division and bribery are aimed at annexing Taiwan to realize its dream of unification, he said.
"We are not afraid of China's deliberate efforts to degrade Taiwan. Deep down in our hearts, we cannot degrade ourselves," Lee said.
Some people, who are trapped by the idea of a "Greater China," have become lost, not knowing where to go or what to do, Lee said, adding that they have succumbed to Chinese hegemony and are bought off by China for short-term interests.
Lee criticized the Chinese regime of running counter to the universal human value of democracy and freedom, projecting itself as a country of great power and prosperity.
He accused China of using the "Chinese dream" to fool Chinese citizens in order to maintain the Chinese Communist Party's grip on power, Lee said.
"Taiwan is not your enemy, not now and not in the future. Your greatest enemy is true democracy and true freedom," the former president said.
The Chinese government should think about building permanent democracy and freedom, and seeking eternal happiness for all Chinese people, he said.
If China wants to become a world power, it could not achieve this by exporting hegemony; instead, it should strive to be a civilization that exports universal values, Lee said.
Comments will be moderated. Keep comments relevant to the article. Remarks containing abusive and obscene language, personal attacks of any kind or promotion will be removed and the user banned. Final decision will be at the discretion of the Taipei Times.