New AIT home worth wait: Burghardt
Construction of the new American Institute in Taiwan (AIT) compound in Taipei's Neihu District (內湖) took "an awful long time," but the finished site, in which feng shui had a role, looks "attractive and functional," former AIT chairman Raymond Burghardt said on Wednesday.
Burghardt, who served as AIT director from 1999 to 2001 and chairman from 2006 to 2016, said he was delighted to see work on the complex nearing completion, although it took nearly a decade to build, and it looks beautiful compared with US embassies he has visited.
The AIT took out a 99-year lease on the 6.5 hectare hillside site with the Taipei City government in 2004 and construction was originally scheduled to be completed in 2015.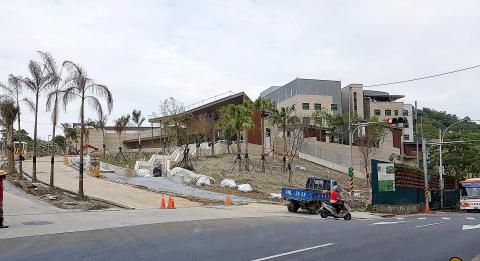 A scooter is seen in front of the American Institute in Taiwan's new compound in Taipei's Neihu District on Monday.
Photo: Chang Chia-ming, Taipei Times
A dedication ceremony was held on Tuesday, but staff are not scheduled to move into the new complex until sometime in September or afterwards.
Burghardt said he was directly involved in choosing the site, which he liked because he believed it has good feng shui, as the site has a mountain at its back and river in front.
He said he did not consult a feng shui master, but used his own knowledge of basic feng shui concepts as well as advice from Taiwanese friends.
However, after construction began, engineers found some problems, he said.
The mountainside location, and Taiwan's frequent rains, meant that a tremendous amount of time and money was needed to build retaining walls and other facilities so that water could be drained from the site.
"I felt a little guilty about that," he said.
However, the long wait was more than worth it, Burghardt said.
President Tsai Ing-wen (蔡英文) and former president Ma Ying-jeou (馬英九) both said that the new building has a very "American flavor," he said.
While he did not know exactly what they meant, he believed it is because the compound is airy and has a lot of natural light, with a perfect combination of natural wood and stone, he said.
Asked which part of the building he likes best, he said the complex has many informal meeting places that can also be used for receptions, something that AIT's current location on Xinyi Road does not have.
These spaces can be used to hold receptions or cocktail parties without the need to rent hotel facilities, which is a great asset, he said.
Asked to comment on the cross-strait impasse, Burghardt again called on both side to use "creativity, flexibility and patience," phrases he used before he left stepped down as AIT chairman in the summer of 2016.
However, the lack of mutual trust between the two sides makes it very difficult to resume official talks, he said.
Tsai has shown some creativity and patience, but the problem lies in the fact that "Beijing has not met her halfway," he said.
Asked for some concrete suggestions, Burghardt said Chinese academics and officials from China's Taiwan Affairs Office have suggested that the Democratic Progressive Party (DPP) could freeze the independence clause in its party constitution to make party-to-party talks possible.
However, Tsai was not likely to do so, given the year-end elections, he said.
The DPP could use private channels to engage in quiet communications in an attempt to rebuild mutual trust, he said.
Comments will be moderated. Keep comments relevant to the article. Remarks containing abusive and obscene language, personal attacks of any kind or promotion will be removed and the user banned. Final decision will be at the discretion of the Taipei Times.