Taipei mayor, associations support TAPM's Wu, say attacks are political
Taipei Mayor Ko Wen-je (柯文哲) yesterday said that alleged scandals involving Taipei Agricultural Products Marketing (TAPM) general manager Wu Yin-ning (吳音寧) are being used as political strategies to bring him down.
Wu, who took office in June last year, has since March been attacked by several Taipei city councilors over a number of issues, including a drastic drop in vegetable prices and questions about her use of the company's business promotion fund.
She was on Wednesday summoned by the Taipei District Prosecutors' Office to for questioning on Wednesday after it received official complaints.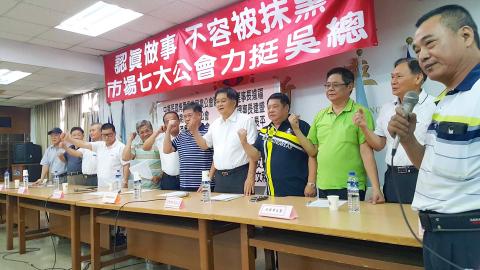 Association representatives yesterday in Taipei hold a news conference in support of Taipei Agricultural Products Marketing general manager Wu Yin-ning.
Photo: Yang Hsin-hui, Taipei Times
Seven fruit and vegetable business associations yesterday held a news conference to voice their support for Wu, saying that she is proactive, hardworking and the best general manager the company has ever had.
Wu often goes to the auction site early after midnight and all have witnessed her hardworking attitude and suitability for the job, Taiwan Fruit and Vegetables Commercial Association chairman Chiu Chin-fu (邱進福) said, adding that she is being intentionally discredited for political reasons.
The associations also said that the Taipei City Government does not have the right to investigate the company, as it only holds 20 percent of its shares, so Wu should not be asked to respond to city councilors as a matter of course.
The scandals involving Wu and former TAPM general manager Han Kuo-yu (韓國瑜) are the result of political struggle between the pan-blue and pan-green camps, Ko said.
He said he had tried to mediate in the conflict because he is stuck in the middle, but feels hopeless when the two sides initiate a battle against each other.
"This is their battle strategy — as long as I am 'in the same frame' with Wu, I will have points deducted. Is this not just what everyone hoped for?" he said. "It's a political strategy of using Wu Yin-ning to bring Ko Wen-je down."
Neither Han not Wu are bad or corrupt, and they are passionate and willing to do their jobs, but one has been replaced and the other is being bombarded in an effort to cripple her, Ko said.
Asked about the Taipei Department of Government Ethics' visit to the company last week to examine its accounting records, Ko said that according to the Company Act (公司法), he is not allowed to check the records, so he has not read the report.
Technically, Wu is under no obligation to report to the city council, but the city government has persuaded her to face the issues, Ko said.
Comments will be moderated. Keep comments relevant to the article. Remarks containing abusive and obscene language, personal attacks of any kind or promotion will be removed and the user banned. Final decision will be at the discretion of the Taipei Times.