Former judge acquitted in bribery case
REASONING: The Taiwan High Court questioned the reliability of witnesses' statements and said there was a lack of evidence against Lin Te-sheng
The Taiwan High Court yesterday acquitted former judge Lin Te-sheng (林德盛), 63, reversing a guilty conviction handed to him for bribery in a 2005 narcotics case.
Lin was a judge at the Hualien Branch of the Taiwan High Court in 2005, when he was accused of taking bribes totaling NT$1.7 million (US$56,704 at the current exchange rate) in exchange for granting bail to a suspect surnamed Lee (李), who was being investigated for possessing heroin and other illegal drugs.
In the first ruling, the Hualien District Court convicted Lin of contravening the Anti-Corruption Act (貪污治罪條例) and handed him a 13-year prison term, which Lin appealed.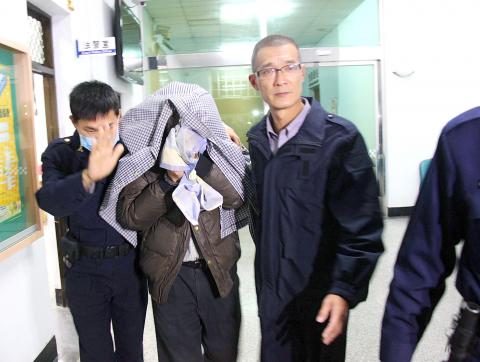 Police officers escort former judge Lin Te-sheng, second left, from the Hualien Branch of the Taiwan High Court on Jan. 18, 2013.
Photo: Lin Hsin-han, Taipei Times
The High Court cited uncertainties in the witnesses' testimony and a lack of concrete evidence as reasons for acquitting Lin.
It said Lin's earlier conviction was mostly based on testimony given by the suspect's wife, as well as two witnesses, surnamed Ho (何) and Chien (簡), who allegedly handed the bribe money over to Lin in 2005.
Ho was wanted on a separate criminal case, but fled to China to evade prosecution, and only returned to Taiwan in 2013.
The High Court questioned the reliability of Ho's statement, as he had difficulty recalling details that had happened eight years ago.
The court added that it was uncertain whether Lin had solicited the bribe, or whether Ho had approached him.
Prosecutors can still file an appeal with the Supreme Court.
Lin has previous convictions. The High Court last year found him guilty of corruption and sentenced him to 10 years and six months in prison for a 2005 drug trafficking case involving a man surnamed Tseng (曾).
An investigation found that Lin, who was presiding over the case, had taken a bribe from Tseng's wife and acquitted Tseng, reversing the 20-year sentence handed to him by a lower court.
In September last year, Lin was convicted of leaking confidential information from a prosecution case he had presided over, and had to serve a one-year sentence.
Comments will be moderated. Keep comments relevant to the article. Remarks containing abusive and obscene language, personal attacks of any kind or promotion will be removed and the user banned. Final decision will be at the discretion of the Taipei Times.