DPP's denial of electricity woes hurting public: KMT
The Chinese Nationalist Party (KMT) legislative caucus yesterday blamed a blackout on Wednesday in Miaoli County, which affected more than 70,000 homes and businesses, on an energy shortfall that it said the Democratic Progressive Party (DPP) has refused to acknowledge.
There have been nine large-scale blackouts from April last year to Wednesday, but Minister of Economic Affairs Shen Jong-chin (沈榮津) yesterday told a legislative meeting that they were not due to energy shortages, KMT caucus secretary-general Lee Yen-hsiu (李彥秀) told a news conference in Taipei.
The DPP administration claims that energy supply has remained stable, but such "wordplay" cannot conceal that authorities have had to pool electricity from different regions to maintain that supply, indicating that the nation is indeed experiencing power shortages, Lee said.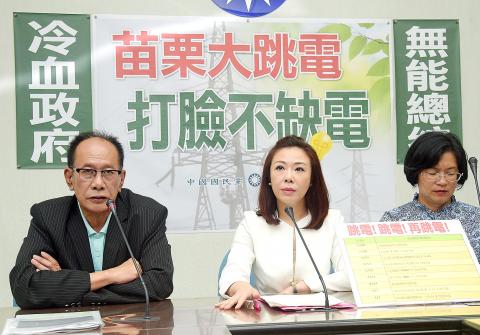 From left, Chinese Nationalist Party (KMT) lawmakers Chen Chao-ming, Lee Yen-hsiu, and Wang Hui-mei attend a news conference in Taipei yesterday.
Photo: Huang Yao-cheng, Taipei Times
She expressed concern that fierce heat and extreme weather would drive up electricity consumption and trigger more blackouts, which she said could hurt people's livelihoods.
Wednesday's blackout was ironic, as President Tsai Ing-wen (蔡英文) has pledged to pay a subsidy of NT$4.5 billion (US$150.1 million) toward building electrical power infrastructure in Haiti, one of the nation's Caribbean diplomatic allies, at about the same time that power was cut off in Miaoli.
If another major power outage occurs, Shen and state-run Taiwan Power Co chairman Yang Wei-fu (楊偉甫) should assume political responsibility and resign, Lee said.
Tsai, Shen, Yang and Premier William Lai (賴清德) have all told the public that there is abundant electricity supply, only to see another major blackout hit the nation, KMT Legislator Wang Hui-mei (王惠美) said.
It is widely known that energy is in short supply, but Tsai's administration has tried to keep it a secret, suggesting that it has the wrong mindset when it comes to solving the energy problem, Wang said.
The Executive Yuan has set a policy that would give businesses that reduce their electricity use by 5 percent during summer a 20 percent discount on their electricity fees, but such measures have only highlighted the strain on the nation's energy supply, Wang said.
Wang was referring to news reports about a scrapped Cabinet policy, which stipulated that businesses with large energy consumption must cut their electricity use by 5 percent during peak seasons or pay "punitive" electricity fees.
She urged the DPP government to abandon its "nuclear power-free homeland" energy policy, as it risks causing more blackouts and could deter foreign investment, hurting the nation's economy.
Meanwhile, Executive Yuan spokesman Hsu Kuo-yung (徐國勇) said that the government was unlikely to impose power rationing this year, as the nation's energy reserve is forecast to increase to at least 11 percent following the completion of several new generators.
The forecast represents a marked improvement from last year's energy reserve of 7.2 percent, Hsu said.
Asked about electricity use setting a record last month, Hsu said it was due to hot weather caused by a delay in the plum rain season and compounded by higher industrial electricity consumption on the back of an economic recovery.
Comments will be moderated. Keep comments relevant to the article. Remarks containing abusive and obscene language, personal attacks of any kind or promotion will be removed and the user banned. Final decision will be at the discretion of the Taipei Times.