NCC urged to confront 'censorship'
GOU'S ROLE QUESTIONED: The Hon Hai chairman is a co-owner of TBC's parent company, and TBC's fight with FTV over a news channel worries some people
Pro-independence groups yesterday urged the government to tackle what they said was Hon Hai Group chairman Terry Gou's (郭台銘) censorship of media, after a system operator partly owned by Gou cut off Formosa TV's (FTV) channels on Friday.
The Taiwan Society and other groups told a news conference in Taipei that they object to Gou's attempt to monopolize the media, given his massive investments in China, and they called on the National Communications Commission (NCC) to work harder to defend press freedom.
FTV is the nation's only TV station not tainted by Chinese influence, Union of Taiwan Teachers (UTT) executive director Hsiao Hsiao-ling (蕭曉玲) said, calling on the Democratic Progressive Party administration to treat the issue as a national security crisis.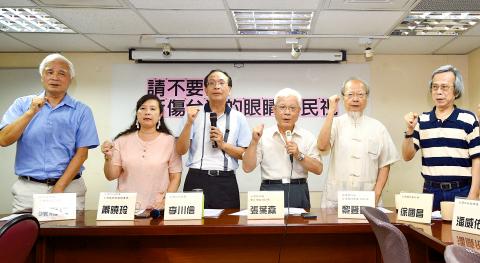 Union of Taiwan Teachers executive director Hsiao Hsiao-ling, second left, and others at a news conference in Taipei yesterday protest Taiwan Broadband Communications' decision to stop airing Formosa Television's channels on Friday.
Photo: Peter Lo, Taipei Times
As China has been working steadily toward its aim of unification, Taiwan should not allow those close to the Chinese government to deprive Taiwanese of "their right to know," Northern Taiwan Society secretary-general Pan Wei-yu (潘威佑) said.
Gou and Lu Fang-ming (呂芳銘), a Hon Hai Group vice president, last year purchased Singapore-based Macquarie APTT Management Pte, the parent company of Taiwan Broadband Communications (TBC), as individuals.
TBC is the nation's third-largest multiple systems operator, with five broadcasting systems.
FTV last year packaged its three channels — Formosa News, Formosa Taiwan and Follow Me TV — into one deal, but TBC only wanted to air Formosa News.
TBC on Friday stopped airing Formosa News, affecting about 700,000 households in Taichung, southern Taoyuan, and Hsinchu and Miaoli counties.
It did so because FTV had not authorized it to broadcast Formosa News as of Thursday midnight, TBC said yesterday in a statement.
It had invited FTV to send representatives to negotiate on Monday, but FTV did not send anyone, the statement said, adding that another invitation had been issued for a meeting today.
The commission on Friday said it had hosted 11 meetings with TBC and FTV officials, but the two sides would not budge from their positions.
Comments will be moderated. Keep comments relevant to the article. Remarks containing abusive and obscene language, personal attacks of any kind or promotion will be removed and the user banned. Final decision will be at the discretion of the Taipei Times.