Tea house aims to inspire with cartoon
CULTURAL EXCURSION: The Wistaria Tea House plans to host a series of tea-themed walking tours of Taipei's Dadaocheng and Yongkang Street areas this and next month
Taipei's historic Wistaria Tea House (紫藤廬) has partnered with new media company Taiwan Bar to inspire a new generation of tea lovers by explaining the development of Taiwanese tea culture in a five-episode animated series titled Zhencha Shiwusuo (偵茶事務所, "tea investigation agency").
The collaboration was inspired by a belief that tea culture needs to keep up with the times, integrate the creativity of the younger generation and engage in cross-sector partnerships, Wistaria Tea House CEO Sophie Lin said.
Tea culture is a tourism opportunity that has potential and can be developed, said Lin, who has been in the tea business for decades.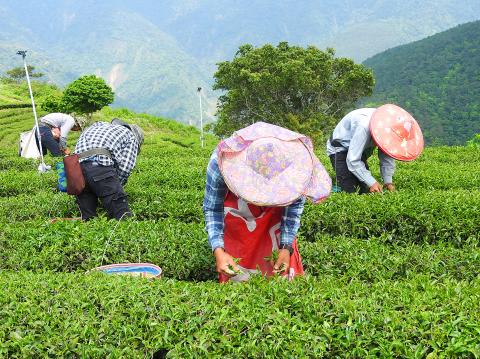 Tea farmers harvest leaves of spring tea in Nantou County's Jenai Township on Friday last week.
Photo: Tung Chen-kuo, Taipei Times
Taiwan's tea craft is diverse across aspects of the tea ceremony, such as the space in which tea is served, the tools that are used, the flower arrangements that decorate the space, the clothing worn by those who serve tea and the performances.
However, the advantage of Taiwan's sophisticated tea culture is slowly being diminished, she said, adding that others have tried imitating Taiwan's development of naturally cultivated tea.
The gongfu (功夫) tea ceremony involves a certain type of atmosphere, Lin said, adding that apart from stimulating different parts of the senses, tea culture in Taiwan also has the ability to soothe people's minds.
There are veteran tea lovers of all ages, from people in their 20s to those in their 70s, she said.
People who are particular about tea like to study its different aspects — its production, variety, manufacturer and the region in which it was produced — teaware and the water that is used to brew the tea, she added.
Lin said she knew of a tea lover who brought water from the Wuyi Mountains in China's Fujian Province back to Taiwan just to experience the taste that using a different kind of water provided.
Many cultural connections can be made to gongfu tea, such as its historical origins, literature and even Zen, she said, adding that those who are interested in researching the field would discover its large scale.
By comparison, hand-shaken teas are a "fast-food drink," she added, referring to drinks that are served at the many beverage chains around the nation.
Lin said that she hopes to use a way of drinking tea that young people are familiar with to spark their curiosity and inspire them to further understand and study tea.
She said that she does not want the Wistaria Tea House to retain the image that people typically associate with old tea houses, adding that she wants to turn the historical site into a resource sharing platform.
Taiwan Bar and the Wistaria Tea House on Tuesday last week released the first episode of the animated series on YouTube, which discusses the origins of matcha and the Japanese tea ceremony.
The Wistaria Tea House hosted a screening of the first and second episodes on Saturday last week.
From Tuesday, a new episode is to be made available online on the first and 15th of each month, Taiwan Bar announced on its YouTube channel.
Throughout this and next month, the Wistaria Tea House is to host a series of tea-themed walking tours of Taipei's Dadaocheng (大稻埕) and Yongkang Street areas led by Taiwan Bar cofounder Thomas Hsiao (蕭宇辰), artist Ho Chien-sheng (何健生) and author Kung Yu-yao (龔于堯).
Comments will be moderated. Keep comments relevant to the article. Remarks containing abusive and obscene language, personal attacks of any kind or promotion will be removed and the user banned. Final decision will be at the discretion of the Taipei Times.