DPP expected to nominate Su
UNITED: Party members at all levels support Su's candidacy, and his campaign is being supported by DPP Secretary-General Hung Yao-fu, a party source said
The Democratic Progressive Party (DPP) is on Wednesday expected to officially nominate former premier Su Tseng-chang (蘇貞昌) as its New Taipei City mayoral candidate for the Nov. 24 nine-in-one elections, a party source said.
The DPP is expected to make the announcement following a meeting of its Central Executive Committee, they said.
President Tsai Ing-wen (蔡英文), the DPP chairperson, on April 12 met with Su after the party's executive committee and the Electoral Strategy Committee recommended Su as the party's candidate for New Taipei City mayor.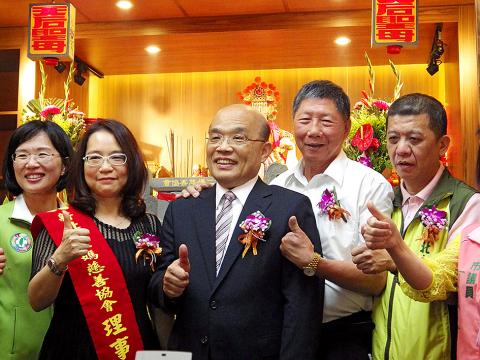 Former premier Su Tseng-chang, center, who is expected to be the Democratic Progressive Party's nominee for New Taipei City mayor, attends a ceremony at the New Taipei Matsu Charity Association in the city yesterday.
Photo: Chen Hsin-yu, Taipei Times
Su agreed to represent the party, and during the meeting spoke by telephone with former premier Yu Shyi-kun (游錫堃), who had until then been supported by a number of the DPP's New Taipei City councilors to represent the party in the election.
Yu in 2014 ran for New Taipei City mayor on the DPP ticket and lost by 24,528 votes.
On April 12, he wrote on Facebook that he fully supports the party's decision to pick Su as its candidate.
During their telephone conversation, Su and Yu agreed to meet, the source said.
Party members at all levels support Su's candidacy, and his campaign is being supported by DPP Secretary-General Hung Yao-fu (洪耀福) and DPP Legislator Chen Ming-wen (陳明文), the source said, adding that his campaign team has been allowed to draft party members from government agencies to join its efforts.
Presidential Office Deputy Secretary-General Jason Liu's (劉建忻) office director Lee Huai-jen (李懷仁) and Premier William Lai's (賴清德) office director Huang Chih-ta (黃致達) would also take temporary leave from their posts in the second half of next month to join Su's campaign team, the source said.
Su has scheduled meetings with New Taipei City Council Speaker Chiang Ken-huang (蔣根煌) of the Chinese Nationalist Party (KMT), as well as DPP caucus members within the New Taipei City Council, for Thursday.
New Taipei City Council Deputy Speaker Chen Wen-chih (陳文治) of the DPP said the mayoral race is heating up, adding that Yu has been helpful in getting his supporters within the council to rally behind Su.
Chen Wen-chih said that, with the party's choice of Su as its nominee, grassroots supporters are finally starting to feel satisfied, adding that his popularity stems from his work at the grassroots level over the past several years.
Meanwhile, a source from the KMT said the party's nomination of former New Taipei City deputy mayor Hou You-yi (侯友宜) as its candidate in the mayoral election would have repercussions for its overall success in the nationwide elections.
In response to media queries about whether he is worried that he would be "uprooted," given that Su is to visit Chiang on Thursday, Hou yesterday said he has known Chiang for seven years and is on good terms with him, adding that the visit is a polite gesture.
"I am not even a little bit worried," he said.
Hou's campaign team has new media and publicity staff, and is being assisted by members of the New Taipei City Government, the KMT source said, adding that the party only needs to strengthen a few weak points in its team.
However, KMT Organizational Development Committee Director Lee Che-hua (李哲華) said that while Hou is familiar with the city government, New Taipei City Deputy Mayor Lee Shu-chuan (李四川) and civil servants in the city government would not help Hou's campaign in line with the principle of administrative neutrality.
Additional reporting by Lin Liang-sheng, Chen Hsin-yu and Shih Hsiao-kuang
Comments will be moderated. Keep comments relevant to the article. Remarks containing abusive and obscene language, personal attacks of any kind or promotion will be removed and the user banned. Final decision will be at the discretion of the Taipei Times.