Politicians warn against entering China-US spat
TRAPPED? Taiwan depended on a powerful US, a weak China and a strong economy, but that is no longer possible, former Mainland Affairs Council chairman Su Chi said
Taiwan should not involve itself in the confrontation between the US and China, but should create another path to interact with the two powers to ensure its security, Foundation on Asia-Pacific Peace Studies chairman Hsu Hsin-liang (許信良) told a forum in Taipei yesterday.
The US until this year approached its relationship with China as a constructive partnership, but the US Department of Defense in its annual defense strategy report published in January defined China as "a strategic competitor," suggesting that the US-China partnership has turned confrontational, Hsu told the regional security forum organized by the Taiwan Research Foundation.
The confrontation would not come to a definite conclusion because neither the US nor China would escalate it to a military conflict, a trade war or Cold War-style diplomatic confrontation, Hsu said.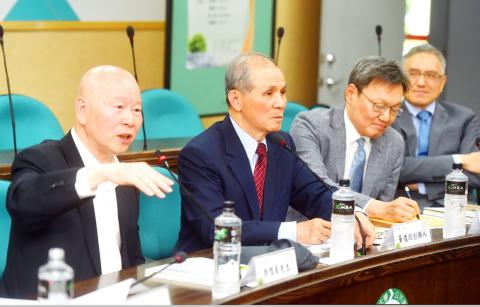 Foundation on Asia-Pacific Peace Studies chairman Hsu Hsin-liang, left, speaks at a forum on strategy in Taipei yesterday as Taiwan Research Fund founder Huang Huang-hsiung, former Mainland Affairs Council chairman Su Chi and Academia Sinica member Chu Yun-han, second left to right, listen.
Photo: Chien Jung-fong, Taipei Times
The US-China relationship would develop into a "protracted, on-and-off process of confrontation and compromise," which would become the basis for a new world order, Hsu said.
While Taiwan has maintained a healthy relationship with the US, the DPP administration has failed to bridge its political differences with Beijing, Hsu said.
Exports to China account for about 40 percent of Taiwan's total — four times the volume of Taiwanese exports to the US — so it is necessary for Taiwan to interact with China, Hsu said.
"Regardless of which party holds power in the government, it has the obligation to break the [cross-strait] deadlock," the one-time Democratic Progressive Party chairman said. "[The ruling party] cannot deny responsibility and the [deadlock] has to be resolved."
Taiwan should not choose sides in the conflict between the US and China, but should instead interact positively with both countries, Hsu added.
Former Mainland Affairs Council chairman Su Chi (蘇起) told the forum that the possibility of US "playing the Taiwan card" against China has increased.
While the US remains the world's top military and economic power, its global leadership has been in decline since US President Donald Trump took office, while China has been building up its military and economic presence, Su said.
The US is also experiencing military confusion, Su said, adding that four collisions between US Navy vessels and commercial ships were reported last year and in January last year, none of the US' aircraft carriers were deployed, contravening standard US practice of always ensuring that at least one aircraft carrier is in operation.
In response to China's growing power and the US' diminishing influence, Washington has two options to counter China: launching a trade war against China or playing the Taiwan card with the newly legislated Taiwan Travel Act, which encourages visits between Taiwan and the US at all levels, Su said.
In the past, Taiwan depended on a powerful US, a weak China and Taiwan's healthy economy to maintain prosperity and dignity, but none of the three factors hold true anymore, Su said.
"To avoid being trapped in a dangerous situation, Taiwan has to adopt hedging measures," he said.
"While many East Asian countries have adopted hedging strategies and maintained a relationship with the US and China simultaneously, only Taiwan takes a one-sided approach [to build rapport solely with the US]," Su said.
He urged the government to increase efforts to communicate with Beijing to avoid confrontation.
Comments will be moderated. Keep comments relevant to the article. Remarks containing abusive and obscene language, personal attacks of any kind or promotion will be removed and the user banned. Final decision will be at the discretion of the Taipei Times.