Beijing employing 'soft strategies' to lure Taiwanese: Lu
Beijing's newly announced investment and employment benefits for Taiwanese indicate a more sophisticated attempt to annex Taiwan, while the passage of the Taiwan Travel Act by the US Senate was a "belated justice," former vice president Annette Lu (呂秀蓮) said yesterday.
China's Taiwan Affairs Office on Wednesday announced 31 incentives and economic benefits for Taiwanese businesses, civic groups, cultural workers and artists in China, which would allow Taiwanese to enjoy the "national treatment" in China, which Lu said is "a soft unification strategy more powerful than military means."
At a news conference in Taipei to introduce a forum on East Asia stability that will be held tomorrow and on Sunday, she said Beijing's new measures are an example of a "soft strategy" to assimilate Taiwanese.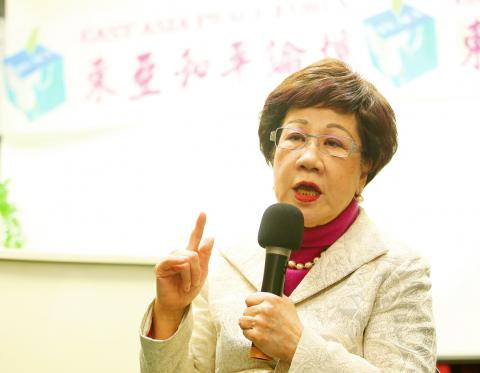 Former vice president Annette Lu speaks at a news conference in Taipei yesterday to promote an East Asia stability forum scheduled for tomorrow and Sunday.
Photo: CNA
"They are making new 'Chinese Taiwanese.' There will be many people attracted [to China] to enjoy the benefits, and they will be forced to give up their Taiwanese identity and prohibited from speaking anything that contradicts [China's] belief. It is [intended] to gradually make them support the 'one China' [principle]," Lu said.
"They are trying to achieve unification with soft strategies, which is probably more powerful than military means," she said.
Lu commended the US Senate's passage of the Taiwan Travel Act on Wednesday, saying that it is "fair, reasonable and belated justice."
Under the act, officials at all levels of the US government would be allowed to travel to Taiwan to meet with their Taiwanese counterparts, while high-level Taiwanese officials would be able to enter the US, under "respectful conditions," and meet with US government leaders.
Lu urged US President Donald Trump to sign the act into law, which would give Taiwan the rights and dignity it deserves.
Taiwan will closely watch Beijing's reaction to the bill, and it would be a test for Taiwanese should China react militarily, she said.
Tamkang University professor of strategic studies Wong Ming-hsien (翁明賢) said Taiwan could ensure peace and stability in the region by making itself a neutral country, which would prevent it from being engulfed in war.
"The idea of a peaceful and neutral [country] could create new strategic room under the ongoing conflicts between the US and China, which would be advantageous to Taiwan's national security," Wong said.
Lu has campaigned for a referendum to declare Taiwan a neutral state.
The forum is part of that campaign and is to be attended by US, Japanese, South Korean and Philippine politicians and academics to discuss Taiwan's role in regional stability.
Comments will be moderated. Keep comments relevant to the article. Remarks containing abusive and obscene language, personal attacks of any kind or promotion will be removed and the user banned. Final decision will be at the discretion of the Taipei Times.