Collusion investigation begun: Cabinet
TOILET PAPER: As international pulp prices have been slowly falling, government officials pointed to fierce competition in the marketplace and the possibility of price collusion
Reports of a potential sharp rise in the price of toilet paper might have been the result of deliberate price manipulation, the Cabinet said yesterday as it vowed to prevent price collusion and reassured the public that there is a sufficient supply of toilet paper at reasonable prices.
Media reports of a price hike and panic buying by the public might have been the consequence of a deliberate attempt to drive up prices, and is being investigated by the Fair Trade Commission and the Consumer Protection Committee, Vice Premier Shih Jun-ji (施俊吉) said at a Cabinet news conference attended by top finance officials.
Price competition between the nation's three toilet paper manufacturers is fierce, Shih said, adding that the market presents strong motivation for price collusion because if only one manufacturer announced a price hike, it would likely lose out on sales.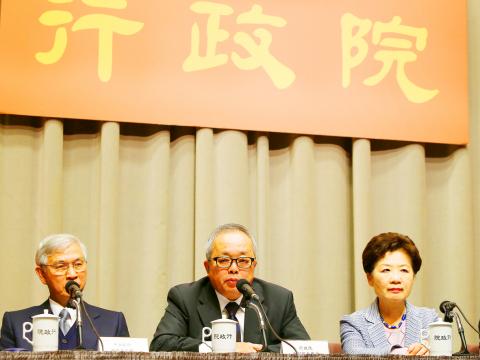 From left to right, central bank Governor Yang Chin-long, Vice Premier Shih Jun-ji and Fair Trade Commission Chairwoman Huang Mei-ying speak at a news conference at the Executive Yuan in Taipei yesterday.
Photo: CNA
It is likely that the companies deliberately fanned the fears of consumers by spreading reports of a price hike, he said.
"The Fair Trade Commission will investigate whether the manufacturers spread reports through the media as part of a pending price hike and whether there was any collusion involved that enabled them to 'bravely' announce the price increase together," commission Chairwoman Huang Mei-ying (黃美瑛) said.
The commission has launched an investigation, interviewing the manufacturers and five top chain retailers to uncover if there was any illegal activity, Huang said.
While the expected rise in toilet paper prices was reportedly the result of an increase in international pulp prices, the Council of Agriculture said that pulp prices over the past five years have been dropping.
The price of paper pulp decreased from NT$75.7 per kilogram in 2013 to NT$45.5 per kilogram in 2014 and to NT$43.1 last year, while the price of paper pulp in January this year was NT$43.2 per kilogram, showing a stable and gently downward trend in international pulp prices, council Deputy Minister Chen Chi-chung (陳吉仲) said.
A recent announcement of a 3 percent pay hike for public employees does not cause commodity prices to jump because the pay increase is paid with pre-allocated government funds and does not create extra governmental spending or inflation, Shih said.
A salary increase in the private sector has minimal impact on commodity prices because companies traded on local bourses increased revenue from NT$1.21 trillion in 2016 to NT$2.1 trillion last year (US$41.27 billion to US$71.63 billion at the current exchange rate), meaning that they have enough cash to afford the pay increase without affecting commodity prices, Shih said.
Inflation this year is expected to remain at a low level of between 0.88 percent and 1.3 percent, he added.
Executive Yuan spokesman Hsu Kuo-yung (徐國勇) said there is an ample supply of toilet paper and urged the public not to stockpile.
Toilet paper was yesterday available in large quantities at major retail outlets, according to the Cabinet's field investigation, Hsu said.
The committee has asked manufacturers not to raise toilet paper prices before March 15, but that does not mean that prices are to go up afterward as the public fears, Hsu said.
Comments will be moderated. Keep comments relevant to the article. Remarks containing abusive and obscene language, personal attacks of any kind or promotion will be removed and the user banned. Final decision will be at the discretion of the Taipei Times.