US lawmakers vow support for Taiwan
IMPORTANT ALLY: US Senator Daniel Sullivan said the US is an Asia-Pacific country that has built up allies in the region, with Taiwan being one of the most important
A US congressional delegation yesterday pledged to support Taiwan's bid to purchase defense equipment from the US during a visit that they said demonstrated their love for Taipei, as well as Washington's continued presence in the Asia-Pacific region.
The 19-member delegation led by US Senator James Inhofe, cochair of the US Senate Taiwan Caucus, includes three other senators and one congressman who serve on the US Senate's and House of Representatives' armed services committees.
The delegation arrived in Taiwan on Tuesday for a three-day visit, during which its members are to meet with high-level government officials to enhance their understanding of Taiwan-US ties and regional security issues, the Ministry of Foreign Affairs said.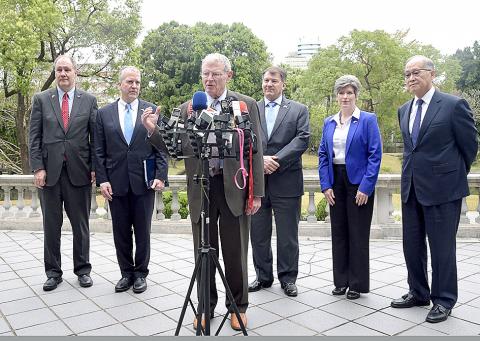 From left, US Representative Trent Kelly, US Senator Daniel Sullivan, Senator James Inhofe, Senator Michael Rounds, Senator Joni Ernst and Minister of Foreign Affairs David Lee attend a news conference in Taipei yesterday.
Photo: Huang Yao-cheng, Taipei Times
As Taiwan-US ties have been called into question after the removal of Republic of China flags from several US government Web sites since September last year, reporters asked delegation members why they chose to visit Taiwan at this time.
"We are here because of our love for Taiwan and we see there are threats in this part of the world. We are very much concerned about our freedom here, as well as your freedom here. This is a very important area for us to be going around in," Inhofe told an outdoor news conference at the Taipei Guest House.
Inhofe said they met with President Tsai Ing-wen (蔡英文) — whom he said he "loves very much" — yesterday morning, when they talked about energy, a major export item of the US.
Turning to military issues, he said Taiwan and the US see many mutual needs and that it was not a one-way street.
"There are some armaments [that] will be helpful to Taiwan, and certainly they have our fullest cooperation. [We] anticipate that our interests are the same," Inhofe said, adding that many US defense contractors want to deal with Taiwan.
"We just want to give you the reassurance that the love we have for Taiwan has been consistent. It has never slowed down and never will," he said.
Another purpose of the trip is to demonstrate something that is very obvious, but not always acknowledged: the US is an Asia-Pacific country, US Senator Daniel Sullivan said.
"America is an Asia-Pacific country. We are an Asia-Pacific power. We have been for over 200 years and we will be here for another 200 years," Sullivan said.
"We have allies that we have built up in this region of the world for decades and one of the most important allies is Taiwan," he added.
Asked what kind of role Taiwan can play in US President Donald Trump's Indo-Pacific strategy, he said the strategy was not only about deepening Washington's relationship with its current allies, like Taiwan, but also about broadening its alliance with other nations in the region.
"Again, Taiwan has been a critical ally for decades, but a lot of it is [based on] shared values, too... There is a lot in the [US] president's strategy, which we are all supportive of, that I think will certainly include countries like Taiwan," Sullivan said.
Comments will be moderated. Keep comments relevant to the article. Remarks containing abusive and obscene language, personal attacks of any kind or promotion will be removed and the user banned. Final decision will be at the discretion of the Taipei Times.