Authorities investigating stout camphor tree cases
HOME REMEDY: As stout camphor fungus has a number of purported medicinal effects, it has fetched high prices over the past few years, likely causing a surge in poaching
Chiayi County police yesterday said they questioned a man surnamed Lin (林) who was found with 34 blocks of stout camphor wood, the second case in days involving stout camphor trees.
Lin reportedly told police that he was using the cut-up wood blocks to cultivate stout camphor fungus, which he had heard can mask the consumption of narcotics, and thought he could profit from their sale to illegal drug users.
Harvesting of the fungus and logging of the trees are illegal, as both are endangered species, police said.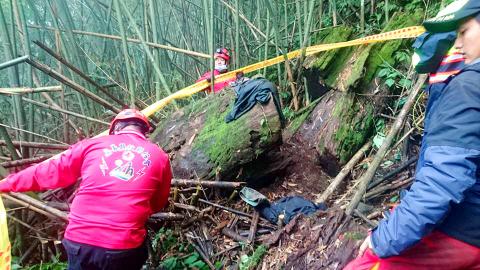 Chiayi County Rescue Association volunteers work to retrieve the body of a 48-year-old man, surnamed Liu, from inside a hollow camphor tree on Sunday.
Photo: CNA, courtesy of the Chiayi County Rescue Association
In the other case involving stout camphor trees, officials from a mountain rescue team in Chiayi on Monday located a man who was reported missing last week and later found that he was poaching stout camphor fungus in one of the county's forests.
The team was last week notified that the 48-year-old man, surnamed Liu (劉), from Nantou County's Jhushan Township (竹山) had gone missing after driving his car to a forest in the mountains near Jhuchi Township (竹崎) in Chiayi earlier this month.
Chiayi City Mountain Rescue Association chairman Hsu Chao-tang (徐紹唐) said the search team was expanded to 20 members for a trip to the area on Sunday.
The team on Monday found some equipment and plastic bags left behind by Liu, and after an intensive search discovered him dead, suspended upside down inside the hollow trunk of a stout camphor tree, Hsu said.
Liu was likely illegally gathering stout camphor fungus, as a bag containing several collected specimens was found near his body next to the trunk, which had fallen down on a 60° mountain slope, Hsu said.
Based on the scene, he said Liu was likely collecting the fungus when he tripped and fell head-first inside the trunk.
Liu appears to have gotten stuck inside the irregular cavity, which averages 50cm in diameter, and was unable to free himself, he added.
It was the most bizarre death in a forest he and the rescue team have seen, as the tree trunk seemingly wrapped around Liu's body, Hsu said, adding that the case has been turned over to prosecutors for an investigation.
Prosecutors are to examine the site and gather evidence to determine whether Liu asphyxiated, died from exposure to the cold or another cause, he said, adding that foul play could not be eliminated.
Liu's body was so tightly trapped inside the trunk that the team could not remove it without causing damage, Hsu said, adding that they had to use an electric saw to cut the tree in half to finally free the body.
Due to its purported medicinal effects to fight cancer and other illnesses, stout camphor fungus has fetched significant prices in the past few years, with authorities reporting a surge of poaching in mountainous areas.
Comments will be moderated. Keep comments relevant to the article. Remarks containing abusive and obscene language, personal attacks of any kind or promotion will be removed and the user banned. Final decision will be at the discretion of the Taipei Times.