Contemporary art exhibition begins in Washington
A Taiwanese contemporary art exhibition by Art Bank Taiwan opened yesterday at the Twin Oaks residence in Washington, which is owned by the Taipei Economic and Cultural Representative Office (TECRO).
The exhibition, titled "Meet Taiwan Contemporary Art at Twin Oaks," features the work of Taiwanese artists in their 30s and 40s, including Tu Pei-shih (杜珮詩), Hou Yi-ting (侯怡亭), Chang Teng-yuan (張騰遠), Yeh Yi-li (葉怡利) and Liao Yu-an (廖堉安), curator Chen Yan-hui (陳妍卉) said at a preview of the exhibition on Friday.
Through the artists' perspectives, the exhibition hopes to guide viewers out of their usual point of view to contemplate everyday phenomena and problems, Chen said.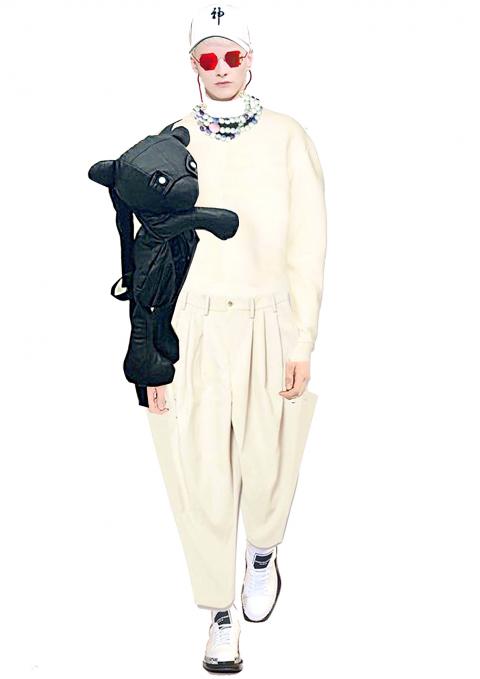 A model in an undated photograph shows a piece from Taiwanese designer Justin Chou's SuperlinXX collection, "Jade Boy and Bear," which was inspired by the piece of the same name in the National Palace Museum.
Photo provided by the National Palace Museum
All the art on view comes from Art Bank Taiwan's own collection, she added.
Funded by the Ministry of Culture and run by the National Taiwan Museum of Fine Arts, Art Bank Taiwan purchases contemporary Taiwanese artworks and offers them to public and private institutions on a "loan-only" basis.
Art Bank Taiwan has collected more than 1,795 pieces of contemporary Taiwanese art, many of which are on display at the nation's representative offices and embassies abroad with the support of the Ministry of Foreign Affairs.
US embassies have been exhibiting pieces by US artists for many years, Taiwan Academy Washington branch director Kuei Yeh-chin (桂業勤) said.
American Institute in Taiwan directors have also been known to exhibit works by Taiwanese and US artists at their official residence in The Palace, Kuei said.
Owned by the government, Twin Oaks was the official residence of Republic of China ambassadors to the US from 1937 to 1979, before Washington severed official ties with the ROC.
The exhibition is to run until June 30 at Twin Oaks, before moving to the TECRO's Culture Center in Gaithersburg, Maryland, about a 30-minute drive away.
In other news, the National Palace Museum and Taiwanese designer Justin Chou (周裕穎) are on Friday to launch their first fashion collaboration at New York Fashion Week.
The SuperlinXX collection was inspired by national treasures such as Jadeite Cabbage (翠玉白菜) and Jade Boy and Bear (玉人與熊), Chou said on Friday at a preview of the collection at the National Palace Museum in Taipei.
"XX" represents synergy and a multi-layered cultural connection, museum director Lin Cheng-yi (林正儀) said.
SuperlinXX, on the other hand, reflects a desire that the museum's national treasures could go beyond the museum setting and make more connections with society, Lin said.
The museum also hopes to have more influence through its national treasures by paving the way for more diverse channels for the transmission of cultural knowledge, Lin said.
The National Palace Museum on Friday is to host a live stream of the SuperlinXX debut.
Additional reporting by Ling Mei-hsueh
Comments will be moderated. Keep comments relevant to the article. Remarks containing abusive and obscene language, personal attacks of any kind or promotion will be removed and the user banned. Final decision will be at the discretion of the Taipei Times.