Handling of M503 issue 'suicidal': ex-minister
WRONG STRATEGY? A travel association head said tourists from Southeast Asia spent only half as many days in Taiwan as Chinese and were more likely to only visit the north
Former minister of transportation and communications Chen Chien-yu (陳建宇) yesterday called the government's handling of a controversy surrounding China's activation of northbound flight route M503 and three extension routes "suicidal," saying that the government's actions so far would only hurt Taiwanese in China.
Chen made the comments before addressing a tourism forum in Taipei hosted by the Chinese Nationalist Party's (KMT) National Policy Foundation think tank and several tourism associations.
Some technical issues should not be resolved in a political manner, he said.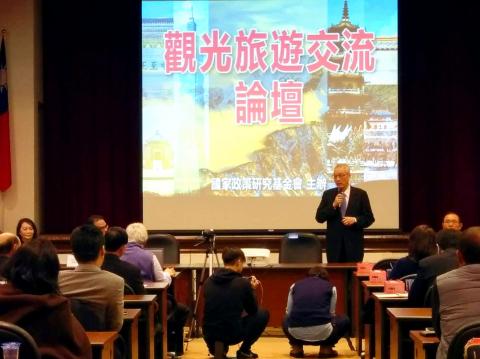 Chinese Nationalist Party (KMT) Chairman Wu Den-yih speaks at a tourism forum hosted by the National Policy Foundation in Taipei yesterday.
Photo courtesy of National Policy Foundation
"Similar cases might have occurred in other nations, which we could use as a reference," Chen said. "We are confronting a country much bigger than us. Rather than handling the situation with might, we should handle it with smart moves."
"To me personally, it has been shocking to see how the situation has been handled. The government only looked at the front and ignored the back. What the government has done is suicidal and absolutely disappointing," he said. "It will only hurt Taiwanese living in China."
Taiwan was able to reach an agreement with China in 2015 about conditions that must be met to activate the northbound M503 route and three extension routes, KMT Chairman Wu Duen-yih (吳敦義) said, asking why the Democratic Progressive Party administration did not follow suit.
The failure to reach a bilateral agreement with China on the four routes has caused two Chinese airlines to cancel requests for 176 additional flights, which would inconvenience Taiwanese working and studying in China when they try to return home for the Lunar New Year holiday, he said.
"Why would this administration rather punish its own people by causing them to spend more time and money to get home instead of communicating with China to minimize the effects of the aviation routes," Wu said.
He described the "status quo" of cross-strait relations as "one of the two parties has read a text message and chosen not to respond," which he said needs to change.
While it is necessary to cultivate tourism from Southeast Asia, the government should not give up on Chinese tourists, who have greater purchasing power and normally spend more time traveling around Taiwan than Southeast Asian tourists, Wu said.
Southeast Asian tourists spend an average of four days in Taiwan, while Chinese tourists usually spend eight days, he said.
Travel Agent Association chairman Hsiao Bo-jen (蕭博仁) said the Chinese tourism market had stopped developing from April last year.
The nation should not let go of the Chinese tourist market, Hsiao said, adding that politics should play no role in the development of tourism.
There is still a way to revive cross-strait tourism, he said.
However, that way is getting narrower following the controversy over the M503 route, he added.
"If Taiwan and China can find their ways back to the negotiating table and communicate, everyone benefits and the nation's tourism industry would still have room to grow," Hsiao said.
As cross-strait tourism can be expected to be affected by politics over the next two years, it is necessary to find business in Southeast Asia, in line with the government's New Southbound Policy, he said.
However, tourists from the countries targeted by the New Southbound Policy spend an average of three-and-half days in Taiwan, and the attractions they visit are mostly in the north, Hsiao said.
Travel operators in central and southern Taiwan would have to change the way they operate, he said.
"We have to change our thinking when offering tours to tourists from the countries targeted by the New Southbound Policy," Hsiao said.
Comments will be moderated. Keep comments relevant to the article. Remarks containing abusive and obscene language, personal attacks of any kind or promotion will be removed and the user banned. Final decision will be at the discretion of the Taipei Times.