Glaser urges world react to air route move
China's activation of the northbound flight path on the M503 route and other routes without consultation with Taiwan is dangerous to air safety and is an issue that requires the international community to take action, Center for Strategic and International Studies (CSIS) China analyst Bonnie Glaser said on Wednesday.
Glaser, director of CSIS' China Power Project, made the comments at a question-and-answer session following a Global Taiwan Institute conference on Taiwan's role in the Indo-Asia-Pacific region.
The new paths put travelers of all nationalities at risk and world governments should have protested Beijing's actions, she said.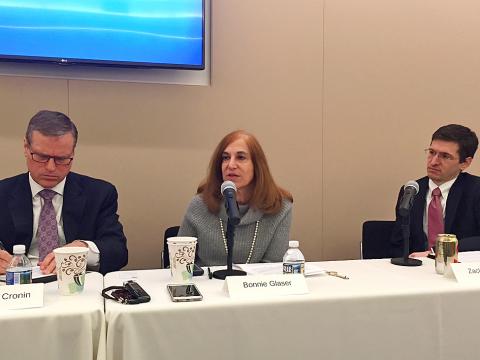 Bonnie Glaser, center, a China specialist at the Center for Strategic and International Studies, speaks after a conference in Washington on Wednesday.
Photo: Nadia Tsao, Taipei Times
It was likely that China's actions in launching the routes on Jan. 4 were in breach of some portion of the International Civil Aviation Organization's charter, she said.
However, lawyers will always be able to make any argument regardless of the subject and the point is Chinese actions have indisputably affected the safety of air travelers in the region, she said.
There are existing channels of communication between Taipei and Beijing, and Taiwan should try to utilize them, she said.
Diplomats and officials should raise the subject with their Chinese counterpart in person and tell them that such behavior is inappropriate and unhelpful, she said, adding that world governments should continue to make public statements about the routes.
Asked about Taiwan's potential role in regional geopolitics, Glaser said Taiwan should first look to its own defense and then take a position on the South China Sea dispute that is congruent with international law.
Taiwan's main challenges are the lack of popular support for increasing defense spending and China's increasing ability to retaliate against Taipei's partners, she said.
The US government often shies from making decisions in Taiwan-US relationship that could irritate Beijing, a situation that is sure to try the current US administration, as it has every administration in the past, she said.
When trying to secure diplomatic breakthroughs, Taipei should weigh the costs-benefits of its actions, she said.
For instance, providing ports-of-call for the US Navy would have limited real benefits, but come with real and severe risks, she said, adding Taiwan should move carefully on the issue.
US-based Chinese academic Yu Maochun (余茂春) said while Taiwan's democratic transition has been successful, the Chinese Nationalist Party (KMT) has not transitioned well.
Each election in Taiwan has exposed internal divisions that have hampered Taiwan's ability to conduct foreign policy, he said.
However, there is no room for defeatism and history is abound with examples where a smaller nation has successfully checked bigger adversaries by superior strategy, he said.
The time is right for the US to transition its policy at the Asia-Pacific region from one that is based on bilateral relations to a new model based on a unified multilateral NATO-like alliance, he said.
Such an alliance is feasible because China's growing strength has become a common concern for other Asian countries that share the common values of democracy and economic development, he said.
Conditions in Asia for multilateral alliance building is better today than the post-World War II period, he said.
Seeing Taiwan's democracy or economy fail would constitute a significant setback for US interests, Center for a New American Security's Asia-Pacific Security Program senior director Patrick Cronin said.
While US government should continue having security exchanges, Taiwan's government should be wary of the nation's economic over-dependence on China and seek to redistribute its liabilities, he said.
This story has been updated since it was first published.
Comments will be moderated. Keep comments relevant to the article. Remarks containing abusive and obscene language, personal attacks of any kind or promotion will be removed and the user banned. Final decision will be at the discretion of the Taipei Times.