Cabinet proposes raising pollution fines by 20 times
The Cabinet is expected to approve this week proposed amendments to the Air Pollution Control Act (空氣汙染防制法) that would impose stricter fuel and emission controls and increase pollution penalties by 20 times to NT$20 million (US$666,267).
Dozens of measures have been agreed upon during a coordination meeting between the Executive Yuan and the Democratic Progressive Party (DPP) caucus, including stricter regulation of fuels, chemical materials and emissions, increased penalties and a reward mechanism to encourage whistle-blowing, Cabinet spokesman Hsu Kuo-yung (徐國勇) said.
The maximum fine for air pollution would be raised from NT$1 million to NT$20 million, and the government could confiscate the illegal gains the polluter obtains, Hsu said.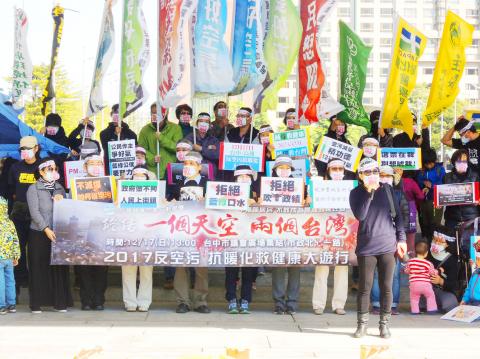 Environmental advocates rally at the Taichung City Government plaza yesterday, holding banners and signs urging people to participate in marches against air pollution in Taichung and Kaohsiung on Sunday.
Photo: CNA
The fine would also be extended from polluters alone to their supervisors and company directors.
More vehicles would be regulated under the act, including ships and factory machinery, Hsu said.
Ships moored in port would be required to use onshore power supply and would be prohibited from using diesel generators, a major contributor to the pollution of port cities like Kaohsiung, he said.
A whistle-blowing mechanism would be established to encourage and protect whistle-blowers, and local governments would have the discretion to set up financial rewards for whistle-blowers.
Fossil fuels have to be desulfurized before being burned in power plants, and stricter control of the production process of paints, fragrance and chemical solutions would be imposed, Environmental Protection Administration (EPA) Department of Air Quality Protection and Noise Control director Tsai Hung-teh (蔡鴻德) said.
"Paints have not been regulated before, and [the production of paints] accounts for 30 percent of volatile organic compound pollution," he said.
The revision would also authorize local governments to directly give tickets to vehicles with lower emission standards — mainly aging trucks and two-stroke motorcycles — entering "air quality zones" where those vehicles are banned, Tsai said.
Current regulations require law enforcement officers to stop such vehicles before fining them, he said.
About NT$920 million of the air pollution fund would be diverted from the EPA to local governments. The degree of the diversion would be subject to minor changes, which should be finalized after Premier William Lai (賴清德) meets with mayors and county commissioners today, Hsu said.
The fund receives about NT$7.2 billion annually, including NT$2.8 billion from the traffic emission tax.
The tax revenue is estimated to increase to NT$4.6 billion following an increase in fuel tax rates, and about 20 percent of the traffic emission tax, or NT$920 million, would be given to local governments, allowing them to enforce local pollution control measures.
The Executive Yuan expects to approve the draft revision at its weekly meeting on Thursday, but the Legislative Yuan might not be able to complete the review of the bill until an extraordinary legislative session next month, Hsu said.
Comments will be moderated. Keep comments relevant to the article. Remarks containing abusive and obscene language, personal attacks of any kind or promotion will be removed and the user banned. Final decision will be at the discretion of the Taipei Times.