INTERVIEW: Defense needs quality: military R&D head
The Chungshan Institute of Science and Technology's core mission is to execute an independent national defense policy, promote the industrial implementation of the results of defense technology research, and play a leadership role in system supply chain integration, institute president Gao Chung-hsing said in an interview with 'Liberty Times' (sister newspaper of the 'Taipei Times') staff reporters Su Yung-yao, Aaron Tu and Lu Yi-hsuan
Liberty Times (LT): President Tsai Ing-wen (蔡英文) has advocated an independent national defense industry since assuming office. What role does the Chungshan Institute of Science and Technology play in independent national defense?
Gao Chung-hsing (杲中興): Since the institute transitioned into an independent administrative institution in 2014, its core mission has been to execute an independent national defense policy to research, develop and manufacture reliable and powerful weapons and equipment that are not controlled by others, and cooperate with the government's policy by promoting the industrialization of the results of the research and development of national defense technology and act as a locomotive that leads the national defense industry and economic growth.
Independent national defense also requires the expansion of dual-use technologies.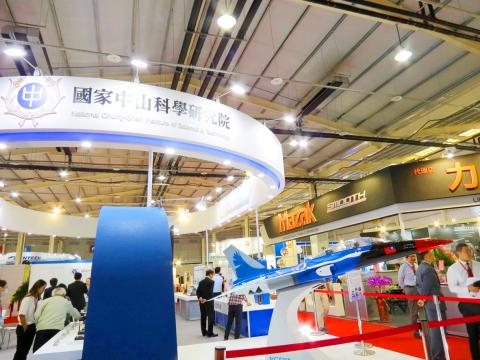 A model of a new training jet is displayed at the Chungshan Institute of Science and Technology's stand at the Greater Taichung International Expo Center on Nov. 16.
Photo: Su Chin-fong, Taipei Times
Industrial defense technology is like a pyramid. On the top are systems like the active electronically scanned array radar, the Tien Kung ["Sky Bow"] missile and the Hsiung Feng ["Brave Wind" missiles, which have limited civilian applications.
Next are the subsystems, such as navigation system gyroscopes, which can be applied in missiles, aircraft, cars and even cellphones.
On the next level are such components as high-specification servo valves, computer chips, turbine blades and engines for control systems.
At the bottom are materials that can be applied to basic industries.
Take the titanium technology developed in the research and development of the Hsiung Feng III supersonic anti-ship missile as an example: The institute transferred the technology to a civilian company that used it to make golf club heads and now it has a large global market share.
The institute's core value is to become a research and development unit of the high-tech national defense industry and to play the leading role in system integration, guiding the upstream, midstream and downstream industry teams in entering the international market.
LT: The government has launched a plan to build submarines locally; the institute plays a part in the program. What is the main challenge the institute faces and how will it reach its target?
Gao: The navy is in desperate need of a new model of submarines to increase its sea control and prevention, as well as maritime power projection and counteracting capability.
However, a problem faced by the homegrown submarine program is the difficulty in securing materials and components used for maintenance and repair.
Furthermore, increasing capability is controlled by a foreign output permit. This issue demands actions by government agencies.
The research and development of underwater technology involves watertight pressure hulls and sound fields — very few domestic factories research and manufacture related equipment or components, and materials and components used for maintenance and repair in the past largely came from abroad — which is disadvantageous for laying the foundations of submarine technology.
Unlike guns, artillery and other single-soldier weapons, and missiles and other automatic weapon systems, submarines, surface vessels, aircraft and others are considered passenger carriers, and involve the integration of more factors. When there are people on board, every dangerous situation needs to be considered. This must rely on systems simulations, certification mechanisms and others to guarantee that every situation can be handled.
The more capable a product is in integrating various systems, the higher its value. This part requires continuous investment. Only by applying and enhancing technology can the development of carrier systems be secured.
Constructing the main body of a submarine is not the biggest problem. However, can it have low noise levels, travel at high speeds and ensure that everything is safe? These cannot be achieved in a single step. The final goal needs to be reached step by step.
As the institute has experience in systems engineering, with regard to the construction of homegrown submarines it will continue executing the integration and development of the combat management system, mast system, sonar system, weapons system, communication inside and outside the submarines, data link system, electronic intelligence system and other key technologies.
It will also look for cooperation possibilities with foreign companies to speed up the establishment of independently built submarines.
The institute will also continue to integrate resources from the industry, the government and academia, and use strategic alliances and a national defense supply chain strategy to integrate civilian research and manufacturing technology, and develop civilian production and manufacturing capabilities.
Through this, the institute will lead domestic shipbuilding, aerospace engineering, the information technology industry as well as relevant mechanical, materials and electrical engineering and related industries.
LT: How can the institute aid the development of the technological capabilities and international reach of the nation's defense industry? What difficulties lie in its path?
Gao: The institute is no longer confined to research and development of weapon systems for the military since its transition to an incorporated administrative agency.
We hope to become a player in the international defense technology industry, and the agency's vision is to build an internationally competitive research and development team in defense technology.
Customization and systemic integration is the institute's strong suit, and it has been approached by defense industry giants, such as Lockheed Martin and Raytheon, for collaboration on projects.
Offering better products and specifications, and lower overhead quotes, and meeting clients' needs are all factors for competitiveness.
However, the institute should upgrade its production lines and equipment if it wishes to manufacture products on a larger scale and meet clients' needs.
The institute used to manufacture products with complete disregard for cost. If the global market is an end goal for the institute, operations must take overhead into consideration. Its prices must be competitive. It is a challenge not only for the institute, but also for its subsidiaries and factories in its domestic supply chain.
The defining characteristics of the defense market are that it has a high entry threshold, demands high quality and a long product lifespan, with relatively small orders. There is significant difficulty in breaking into a market and the key to success is to effectively market your wares.
The needs of clients, whether private or state, must be considered for a lucrative entry into any market, and help from political or diplomatic means is always helpful.
Increasing the competitiveness of product transportation would require the support of the Executive Yuan, the Ministry of National Defense and the Bureau of Foreign Trade.
Singapore, Turkey and South Korea are prime examples of defense industries that have been established from the ground up. All three nations focused on creating marketing channels before upgrading their production capacity and capabilities.
In addition, the defense industry relies on government-to-government negotiations regarding legal and financial affairs, such as industrial collaboration, technology exports, local production and loans. This is an area that the government must work on.
LT: The institute has experience in maintaining product quality while fostering the capability of private-sector companies it collaborates with, an aptitude the government demonstrably lacked, as seen in the Ching Fu minesweeper project. What would you suggest the government should do?
Gao: Defense products are by no means consumer electronics and how one manages their supply chain is an important factor.
Private contractors seeking to manufacture military products using common commercial standards, or seeking to make minor profits by using low-quality materials of lesser degree, could only produce second-rate products.
For example, missiles are expected to have at least 30 years of service life with high reliability and must be given excellent maintenance. All the steps in their production and the accountability of documents involved are strictly controlled and reviewed.
Foreign nations are strict with quality control of defense products, and have over the years built up thorough methods to ensure the quality of products.
Take Boeing, for example. It is a private defense contractor, but it has its own quality control personnel stationed at every supplier. They are given great authority and are tasked with organizing work schedules, inspecting documents, conducting on-site inspections, inquiring after personnel training and mandating which equipment are off-limits.
Any supplier that does not comply with Boeing's demands would have to return all contract fees and perhaps even pay fines. In essence, non-compliance is a net loss for the suppliers, an unacceptable situation for any company.
Large defense contractors are extremely dependent on the management of their supply chain and if such systems are not established, the nation's defense industry could never keep up with the rest of the world.
LT: How can the nation step up its production capabilities? Would stricter or clearer rules accomplish the task?
Gao: Even the most favorable tender under the Government Procurement Act (政府採購法) would not be able to effect any changes in production quality.
Foreign suppliers try to have contingencies in place to control all risk factors to guarantee production quality and standards.
If we truly wish to improve and elevate the standards of domestic products, industries need to move away from profit-oriented mindset and become product-oriented.
Defense procurement in the US, for example, places great emphasis on the management of supply chains. Not only do defense contractors try to have all angles covered, they also implement thorough regulatory systems.
In addition, a separate team is hired for independent monitoring of the design and manufacturing process, embodying the spirit of verification and validation.
A spirit of competition between the contractor and the validation group — the former aiming for less problems to be found and the latter aiming for the opposite — encourages both sides to do better, and produces the best results.
Translated by staff writers Sherry Hsiao and Jake Chung
Comments will be moderated. Keep comments relevant to the article. Remarks containing abusive and obscene language, personal attacks of any kind or promotion will be removed and the user banned. Final decision will be at the discretion of the Taipei Times.