Furor over qualifications of NYMU president
The Ministry of Education yesterday dismissed allegations by Chinese Nationalist Party (KMT) lawmakers that it had been pressured into allowing former Centers for Disease Control (CDC) director-general Steve Kuo (郭旭崧) assume the post of National Yang-Ming University (NYMU) president.
Kuo was elected in October and was scheduled to assume office today.
Speaking at a news conference at the legislature, KMT caucus vice secretary-general Lee Yen-hsiu (李彥秀) said that neither Kuo's rank nor his tenure in a teaching post make him qualified to serve as a university president.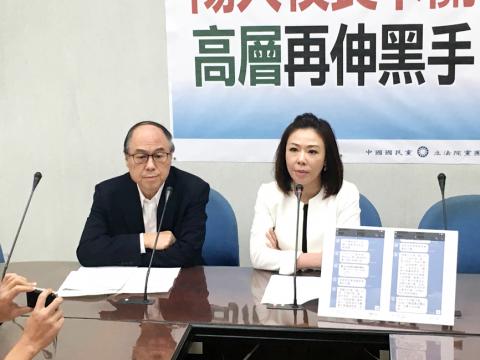 Chinese Nationalist Party (KMT) legislators Chiang Nai-hsin, left, and Lee Yen-hsiu question the Ministry of Education's decision to appoint former Centers for Disease Control director-general Steve Kuo as president of National Yang-Ming University at a news conference in Taipei.
Photo: Cheng Hung-ta, Taipei Times
Kuo is an associate professor who left his teaching post at the university after he was appointed CDC director-general in 2014, Lee said, adding that all of the university's previous presidents were professors.
She presented screenshots, which she said were sent to her by one of her sources, allegedly showing that at 4pm on Wednesday, NYMU presidential election committee convener Chang Hung-jen (張鴻仁) had pressed 21 other committee members to sign off on Kuo's qualification check by 7pm that day, so that the ministry could complete the paperwork in time for Kuo's hiring.
"We have learned that someone from top management telephoned the Ministry of Education, instructing it to qualify Kuo upon receiving the committee's decision," Lee said.
"While we respect every university's right to autonomy, it should not be used as a pretext to bypass due administrative process," she said.
A source from within the ministry said officials who support Kuo's appointment cite a 2013 legal interpretation issued by the ministry that relaxes the qualifications for university presidents, while detractors say that the ministry should be prudent about the matter and ask the university to submit additional documents to prove Kuo possesses the credentials needed for the job.
KMT Legislator Chiang Nai-hsin (蔣乃辛) said that the ministry on Monday asked the university to be prepared to elect an acting president, but it has apparently backpedaled and plans to let Kuo take office today, which is "unusual."
The ministry should clarify whether Kuo has the qualifications to serve as president, because the public expects the university to meet certain standards, he said.
In response, Deputy Minister of Education Lin Teng-chiao (林騰蛟) said that it is within the purview of election committees at universities to vet presidential candidates and elect presidents.
Citing the legal interpretation, Lin said that the ministry in 2013 relaxed qualifications for university presidents in the hope of helping the higher education sector recruit more professionals and talent.
According to the interpretation, adjunct docents, adjunct professors, professors emeritus, visiting professors, researchers at foundations, and people with experience with research and development in the public or private sectors are qualified to serve as university presidents, he said, adding that Kuo is a candidate because he is an adjunct docent at Taipei Medical University.
Candidates that rank below professors but have a doctoral degree and have at least eight years of teaching or research experience in related fields also qualify as university presidential candidates, Lin said.
The policy on hiring academics who rank lower than a professor varies from one school to another, he said, adding that the ministry last week had asked the university to review Kuo's credentials.
Kuo's credentials are still being reviewed by the university, which is set to hold another meeting on the matter soon, Lin said.
Additional reporting by Rachel Lin
Comments will be moderated. Keep comments relevant to the article. Remarks containing abusive and obscene language, personal attacks of any kind or promotion will be removed and the user banned. Final decision will be at the discretion of the Taipei Times.