Lai proposes ban on all fossil fuel-powered vehicles
The nation should consider phasing out cars powered by fossil fuels to reduce air pollution, following the model of some European countries, Premier William Lai (賴清德) has said.
Some European nations have announced that they would place a ban on the sale of gasoline and diesel-powered cars by 2040, while more than 100 Chinese cities are to replace gasoline-powered scooters with electric ones by 2030, Lai said in an interview published yesterday by the Chinese-language Mirror Media magazine.
The government should evaluate when those goals can be achieved in Taiwan, Lai said.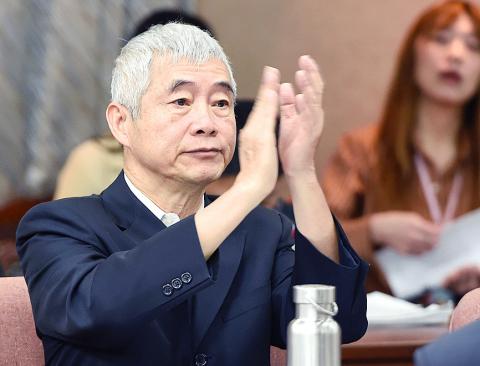 Minister of Transportation and Communications Hochen Tan yesterday claps his hands during a question-and-answer session at the Legislative Yuan in Taipei regarding the promotion of electric vehicles.
Photo: Liao Chen-huei, Taipei Times
One-third of the air pollutants in Taiwan are from traffic emissions, while factory and power-plant emissions make up another third and the rest originates from other nations, mainly China, Lai said.
The government needs to implement measures to reduce traffic emissions and develop public transportation, he said, adding that at the least, subsidies should be provided for all cities and counties to develop an express bus service.
The six-route express bus service in Tainan — fashioned after the routes of Taipei's Mass Rapid Transit System — helped boost the number of bus travelers from 7.24 million in 2009 to 20 million last year, Lai said.
To reduce emissions from coal-fired power plants, they are to be refitted with ultra-supercritical power generators, while advanced pollution prevention equipment are to operate on low capacity during peak pollution periods, he added.
Meanwhile, Minister of Transportation and Communications Hochen Tan (賀陳旦) said his ministry would ban vehicles that run on fossil fuels no later than 2040.
During a question-and-answer session at a meeting of the legislature's Transportation Committee, Hochen said the ministry has been discussing with the Ministry of Economic Affairs and the Environmental Protection Administration about across-the-board adoption of electric vehicles, which should happen no later than 2040, when most developed nations are set to ban such vehicles.
Asked if Taiwan could catch up with China in phasing out fossil-fuel-powered motorcycles by 2030, Hochen said the goal is hardly attainable with the number of scooters in Taiwan.
Compulsory emission tests are ineffective, as trucks, buses and heavy vehicles are producing more pollutants than they are allowed, Democratic Progressive Party Legislator Cheng Pao-ching (鄭寶清) said, calling for improved efforts to promote electric vehicles.
Electric cars could not reduce pollution, because they only trade traffic emissions for power-plant emissions, and full electrification means high facility costs and technical challenges, independent Legislator Chao Cheng-yu (趙正宇) said, adding that promoting hybrid vehicles would be a practical solution.
Meanwhile, Taiwan External Trade Development Council chairman James Huang (黃志芳) lauded Lai's announcement as a correct policy direction that can stimulate the development of the local electric vehicle industry.
Government policy is a catalyst for industrial development, Huang said, citing the exemption of Chinese electric car owners from registration fees and a highway toll-free scheme extended to electric car owners in some European nations.
Comments will be moderated. Keep comments relevant to the article. Remarks containing abusive and obscene language, personal attacks of any kind or promotion will be removed and the user banned. Final decision will be at the discretion of the Taipei Times.