PROFILE: Cultivating an interest is key, brushmaker says
In 100 years, an ink brush that was purchased at a high price for collection would still only be a brush, but if it can inspire artistic creation in the hands of an artist, it fulfills its utmost value, brushmaker and National Palace Museum consultant Chen Yao-wen (陳耀文) said in an interview.
Chen said he has spent more than 20 years searching for various kinds of animal hairs to meet artists' needs in terms of the firmness, fineness and other aspects of brushes.
The hairs he uses to make brush tips come from tigers, springboks, spotted hyenas, giraffes, giant pandas, porcupines, peafowl and even the roots of some plants, such as the sago pondweed, he added.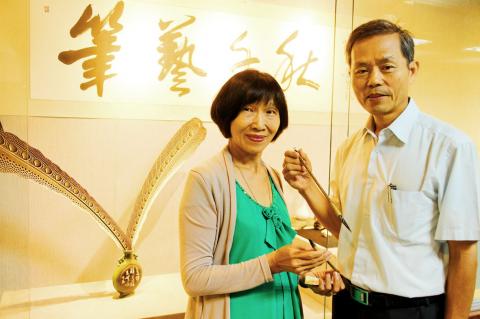 Brushmaker and National Palace Museum consultant Chen Yao-wen, right, and his wife hold brush pens made using feather fibers and bamboo in Hsinchu County on Thursday last week.
Photo: Huang Mei-chu, Taipei Times
As for the brush handle, Chen said he prefers to use bamboo.
However, he said that wood, shells, jade, stones, liquor bottles and almost anything else that can be held are also used in his creations.
Many collectors have expressed interest in his handmade ink brushes, Chen said, but added that he would rather sell them to artists at lower prices.
Chen, a second-generation brushmaker, said he believes that a proper handmade ink brush becomes not just a writing tool, but the treasure sword of an artist.
It can urge artists to create with passion and help them reach the height of their careers, he added.
Chen attributed his idea of seeing the ink brush as a sword to his long-term involvement in the artistic and literary environment at the National Palace Museum.
In 1990, the museum needed a brushmaking technical consultant, and a jade and stone expert at the museum who had admired Chen's work thought of him, he said.
He replicated an ink brush that had been used by Qing Emperor Kangxi (康熙) found in the museum's collection, Chen said.
Even though the only remaining part of the artifact was its handle, Chen said it is the only brush of its kind to be found on either side of the Taiwan Strait.
The Palace Museum in Beijing only has a portrait depicting Kangxi holding the brush to sign a Qing Dynasty-era imperial court document, he said.
Chen said he started the task by first spending two to three months learning how to use a lathe, then spent more than a year learning the raden technique, which involves inserting shell inlays into lacquer or wood.
Chen said he used ebony for the brush's body and turned the wood on a lathe to create a shell pattern engraving.
He then inlaid a shell that he had ground to match the curve of the wood before repolishing the body and applying raw lacquer, he added.
Chen said that a visiting professor from Beijing wanted to collect the replica, but he declined the offer.
Chen said that one Lunar New Year, he gave his friends and relatives ink brushes with handles made from gourd-shaped bottle ornaments.
To his surprise, the gifts were widely popular, he said.
To continue the effort of combining his business of brushmaking with creativity, Chen said he has planted more than 20 types of bamboo on his rooftop and left the plants unattended so that they could absorb the effects of the environment, including insect infestation, spotting and other factors.
The second-generation owner of a brushmaking workshop in New Taipei City's Sanchong District (三重), Chen recalled learning the craft from his father when he was eight years old.
He said that after completing his mandatory military service, he continued working in the field of brushmaking to make a living.
The younger generation today first consider whether they are interested in a certain field when pursuing their education and professional careers, Chen said.
Interest is a product of cultivation, Chen said, urging the younger generation to cultivate their interests and incorporate them into their work.
Comments will be moderated. Keep comments relevant to the article. Remarks containing abusive and obscene language, personal attacks of any kind or promotion will be removed and the user banned. Final decision will be at the discretion of the Taipei Times.