Work to remove rust from Dome almost completed
CONTROVERSY CONTINUES: Taipei Mayor Ko Wen-je denied that he is pushing for the work to be finished to help him if he decides to run for re-election next year
Farglory Group spokesman Jacky Yang (楊舜欽) yesterday said rust removal for the Taipei Dome's roof is mostly complete and that roofing is expected to commence next month, as Yang accompanied Taipei City councilors on the council's Education Committee who were inspecting the site.
Completing the Taipei Dome's roofing would be an engineering milestone and mark the completion of the main structure, Yang said, adding that Farglory expects the roofing and all 13 of the remaining safety-related remedial tasks to be completed by August next year.
The Dome would then enter a process in which its urban design and environmental impact would be reviewed, Yang said.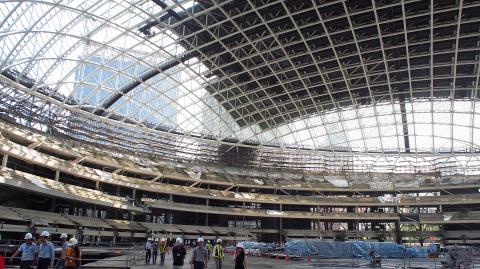 Taipei City councilors from the Education Committee yesterday inspect rust removal work carried out on the Taipei Dome's roof by contractor Farglory.
Photo: Tsai Ya-hua, Taipei Times
If the Dome passes the review process, the remainder of the work is to be finished in about 18 months, he said.
The rust has been mostly removed from the top of the Dome, project head Mashiko Imai, who works for Farglory's contractor Taiwan Obayashi Corp, told the city councilors.
The next step in the project is to apply paint, soundproofing and insulation, Mashiko said.
The rust removal is estimated to cost about NT$400 million (US$13.18 million), Mashiko said in response to questions from Chinese Nationalist Party (KMT) Taipei city councilors Wang Hung-wei (王鴻薇) and Chin Huei-chu (秦慧珠).
Meanwhile, Taipei Mayor Ko Wen-je (柯文哲) denied that work on the Dome is being rushed to help him in next year's Taipei mayor election.
There is no fixed timetable for the Dome's completion, Ko told radio show host Huang Kuan-chin (黃光芹).
"My only concern is to move forward while ensuring public safety and following the law. I cannot pretend that I didn't see anything because it was done in the past," he said.
"This is like an exam; until Farglory takes the test, we will not know the results," Ko said, adding that the reviews will provide transparency and that Farglory should take preparations for it seriously.
Earlier, Ko's former chief campaign executive director Yao Li-ming (姚立明), who is now a political commentator, had criticized his old boss in an interview.
Yao said the city government's legal team was poised to dissolve the Dome contract with Farglory, but that Ko overruled the decision, saying: "Have you forgotten that I have an election campaign to run?"
Yao also claimed that Ko ordered a turnover of his legal team after the meeting.
Asked to comment on Yao's claims, Ko said that he is not opposed to dissolving the contract, but such an action must be clearly planned, as he is a responsible politician.
The mayor also denied Yao's allegation that he sent his chief of staff Tsai Pi-ju (蔡壁如) to take part in under-the-table talks with Farglory Group chairman Chao Teng-hsiung (趙藤雄).
"Tsai is innocent in this. If I have stuff to hash out with Chao, I would not send a person who knows nothing. Why should I do that when I have a Department of Finance commissioner for the job? Tsai was just delivering paperwork and making telephone calls," Ko said.
Comments will be moderated. Keep comments relevant to the article. Remarks containing abusive and obscene language, personal attacks of any kind or promotion will be removed and the user banned. Final decision will be at the discretion of the Taipei Times.