Taiwanese find pride, unity during Games
The motto of this year's Summer Universiade in Taipei was "For You, For Youth," but the legacy of the Games for the public is something even bigger — all Taiwanese being young and proud together.
Taiwan won a record 26 golds, 34 silvers and 30 bronzes, and many of the athletes attributed their outstanding performances to the heartfelt support of the public, adding that it was the sense of "defending their home territory" that brought out the best in them.
Weightlifter Kuo Hsing-chun (郭婞淳), who defeated the Olympic champion and lifted 142kg to break a 10-year-old world record for the clean and jerk in the women's under-58kg class on Monday last week, is one such athlete.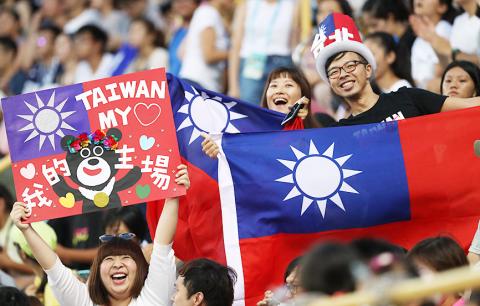 Fans cheer for the Taiwanese team at the Taipei Universiade on Saturday last week.
Photo: CNA
While many of the team were no strangers to competing abroad, Kuo said the greatest advantage competing at home, besides not having to adapt to a different environment and diet, was the luxury of being surrounded by people constantly cheering you on in a familiar language.
"The stadium was full of people cheering so loud and rooting so hard for us," Kuo said at a news conference in Taipei on Wednesday. "That fills you with power out there."
The passion toward the Games not only inspired the athletes, but also the spectators, many of whom had never bought tickets for a sports event before.
Kang Mei-li (康美莉), who wore a national flag sticker on her left cheek on Tuesday to root for badminton player Tai Tzu-ying (戴資穎), was one of them.
"I don't do much sport myself, but I wanted to come out and support our athletes, especially when it is such a rare occasion for Taiwan to hold a big event like this," said the 50-year-old, who also traveled from Hsinchu to watch the basketball game between Taiwan and Ukraine in Taipei on Monday.
"It was the only way to get into a game. Most tickets for events in Taipei were sold out," Kang said.
For many in Taiwan the climax of the athletics events occurred on Saturday last week, when Cheng Chao-tsun (鄭兆村) won the gold medal in the men's javelin with a new Asian record of 91.36m.
"It was a surprise that Taiwan performed so well in athletics. We also did well in tennis, basketball and weightlifting," Taipei Universiade organizing committee chief executive Su Li-chiung (蘇麗瓊) said at the news conference.
In addition to the athletes' performances that made Taiwanese proud, some think the Universiade itself offered an opportunity for people to come together.
Wu Yi-hsuan (吳奕璇), a Games volunteer, said she felt a sense of belonging throughout the event.
"I felt very moved to see so many people cheering for the same goal — for our athletes to win. I felt that we were united," Wu said, adding that the Games had received a lot of praise in the global media.
Mexican Jaqueline Moreno, who visited the Universiade at the invitation of Rotary International District 3490 in Taiwan, said she felt the nation did a good job.
"It shows the world you have resources to hold an international event like this," Moreno said, adding that she was impressed with the facilities and services, such as free Wi-Fi and the metro system.
The Taipei Universiade, the largest international sports event ever hosted in the nation, drew 7,376 athletes from 134 nations, who competed in 271 events in 21 sports.
Germany's Andreas Hofmann, who won the silver medal in the men's javelin, said things were very well organized.
"It was very exciting, a very nice experience to be here," Hofmann said.
Perhaps Su's comments summarized the experience best of all.
"I believe that the Taipei Universiade has been more than an ordinary event or a sports event. It offered [an opportunity] for people to establish ongoing relationships," Su said. "I hope this experience will be a memory that is shared by all Taiwanese."
Comments will be moderated. Keep comments relevant to the article. Remarks containing abusive and obscene language, personal attacks of any kind or promotion will be removed and the user banned. Final decision will be at the discretion of the Taipei Times.