Melt-resistant ice creams are not harmful, FDA says
Melt-resistant ice creams that comply with government guidelines are not harmful to health, the Food and Drug Administration (FDA) said.
Stories have been circulating online that several well-known ice cream brands have used illegal additives to make their products melt-resistant.
Stabilizing the ice cream's structure makes it more resistant to heat at room temperature and the most commonly used additives for those purposes are milk fat, solids-not-fat and emulsifiers, agency official Chih Lan-hui (遲蘭慧) said.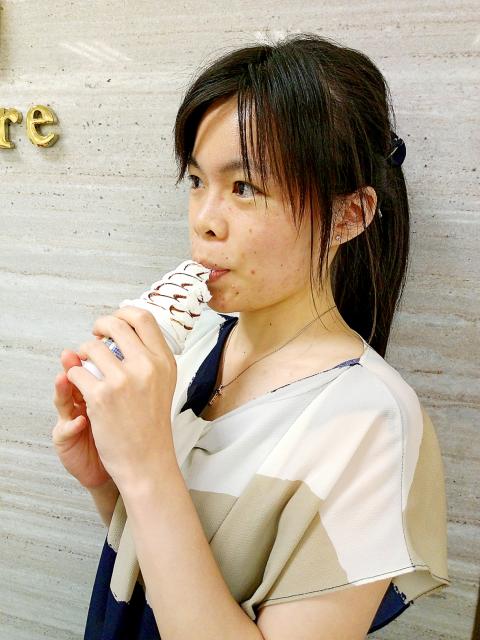 A girl eats an ice cream in an undated photograph. The Food and Drug Administration said that melt-resistant ice creams that comply with government guidelines are not harmful to health.
Photo: Wu Liang-yi, Taipei Times
The agency restricts the types and quantity of additives that manufacturers can use to protect public health, Chih said.
The stirring, aging and freezing of ice cream during the manufacturing process also helps the product develop structure, further reducing the speed of melting, she said.
FDA-approved food additives, such as emulsifiers, are safe for consumers as long as the quantities used are within legal limits, Linkou Chang Gung Memorial Hospital toxicologist Yan Tsung-hai (顏宗海) said.
That ice cream with excessive quantities of emulsifiers have an inferior texture discourages their overuse of emulsifiers by manufacturers, Yan added.
Although the agency regularly inspects frozen products, most of its regulatory attention is focused on those made at the point of sale — such as shaved ice — for compliance with sanitary standards, Escherichia coli bacteria counts and total plate counts, Chih said.
For prepackaged frozen products, the agency inspects product labels for omissions of additives and false expiry dates, she added.
Companies that omit additives from product labels may be fined between NT$30,000 and NT$3 million (US$988 and US$98,782), while firms that falsely label products may be fined between NT$40,000 and NT$4 million, Chih said.
Comments will be moderated. Keep comments relevant to the article. Remarks containing abusive and obscene language, personal attacks of any kind or promotion will be removed and the user banned. Final decision will be at the discretion of the Taipei Times.