Sangpuy's triple success brings joy to Katatipul
More than a personal triumph, Puyuma singer Sangpuy Katatepan Mavaliyw's triple win at the Golden Melody Awards on Saturday brought joy to Katatipul village in Taitung County where he grew up.
On the evening of the ceremony, the residents of Katatipul in Taitung County's Jhihben Township (知本) gathered in an impromptu open-air theater to watch the Internet stream of the event from Taipei and to cheer for Sangpuy.
The excitement became palpable when it was announced that Sangpuy's album Yaangad had won the Album of the Year and Best Aboriginal-language Album awards, as well as a technical award for the best vocal recording.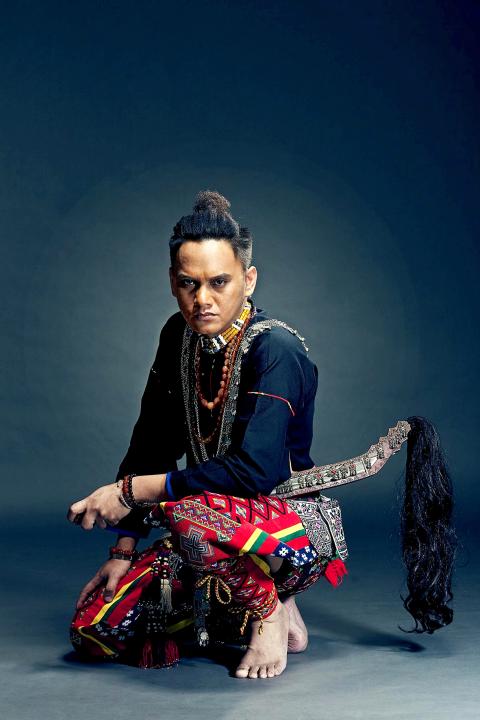 Puyuma singer Sangpuy Katatepan Mavaliyw poses in a promotional photograph provided by the artist.
Photo: courtesy of Sangpuy Katatepan Mavaliyw
Several women burst into a dance amid loud cheering.
As Sangpuy walked to the stage to claim his awards, one Puyama resident exclaimed in a comment that elicited laughter: "Look at that. He got himself dress shoes."
The village had eagerly anticipated the award ceremony and many volunteered to set up the theater, while others prayed to the ancestral spirits for Sangpuy's success, local residents said.
Katatipul means "togetherness" or "solidarity" in the Puyuma language.
The musical abilities of its inhabitants have been a source of Katatipul pride and the village's coin-operated karaoke machines are its most popular pastime, with long lines forming every weekend, they said.
Famous singers from the village have now claimed a total of five Golden Melody Awards. Chen Ming-jen (陳明仁) won an award in 2001 and Chen Chin-sheng (陳錦勝) in 2011, they said.
They are doubly pleased that Katatipul is now in the same musical league as another village in the county, Nanwang (南王).
Musicians hailing from Nanwang Village have won 10 Golden Melody Awards.
Comments will be moderated. Keep comments relevant to the article. Remarks containing abusive and obscene language, personal attacks of any kind or promotion will be removed and the user banned. Final decision will be at the discretion of the Taipei Times.