Sediq-themed mailbox in Nantou drawing tourists
A mailbox painted with an image of a Sediq Aborigine has become a tourist attraction in Nautou County, the local post office said.
Tourists have been flocking to the mailbox that stands outside the Nantou Post Office in Renai Township (仁愛).
To boost tourism, the office has prepared free souvenir postcards and a stamping service for tourists to remember their visit.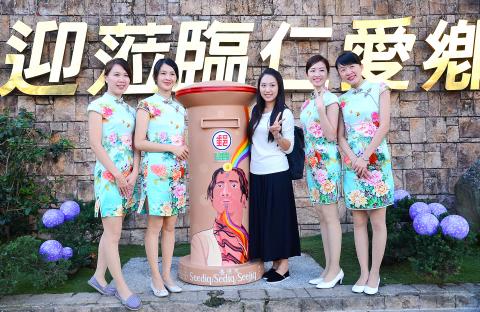 Tourists pose beside a Sediq Aborigine-painted mailbox in Nantou County's Renai Township on Sunday.
Photo: CNA, courtesy of Nantou Post Office
The office said it plans to expand its tourism campaign by incorporating social network marking tools, such as Facebook.
The mailbox is one of 16 special mailboxes painted using symbols and images from the nation's 16 Aboriginal groups — part of Chunghwa Post Co's efforts to highlight Aboriginal features and culture.
The Sediq-themed mailbox was unveiled on Dec. 5 last year.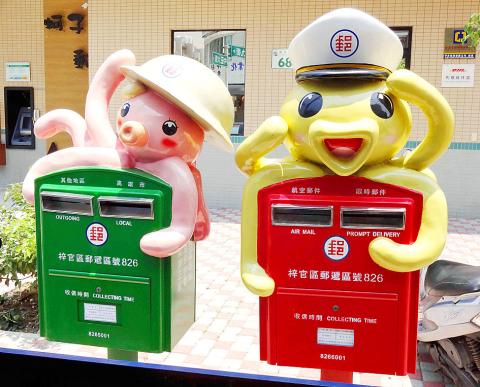 Two octopus-themed mailboxes commissioned by Chunghwa Post are pictured in Kezihliao fishing village in Kaohsiung on Sunday.
Photo: CNA
In related news, two mailboxes adorned with ceramic figures in the shape of octopuses have been attracting attention in the fishing village of Kezihliao (蚵子寮) in Kaohsiung.
Keziliao in the city's Zihguan District (梓官) is known for its seafood, in particular mullet roe, narrow-barred Spanish mackerel, squid and milkfish.
One group of visitors said the mailboxes were "kawaii," which means "cute" in Japanese.
Chunghwa Post, which installed the mailboxes at a newly relocated post office near Kezihliao Harbor, decided to decorate them with octopuses to reflect the characteristics of the fishing village.
The octopus mailboxes have been especially popular among children, who flock there to pose for photos.
In front of the post office itself, there is another ceramic figure depicting a postman pointing at the entrance, which has also become a tourist attraction.
Comments will be moderated. Keep comments relevant to the article. Remarks containing abusive and obscene language, personal attacks of any kind or promotion will be removed and the user banned. Final decision will be at the discretion of the Taipei Times.