Nicaraguan delegation showcases organic food products in Taipei International Food Show
Nicaragua has set sights on tapping into the global market for organic meat products by capitalizing on opportunities in the wake of food safety concerns in Brazil, the world's biggest meat exporter, Ambassador William Tapia Aleman said at the Taipei International Food Show (Food Taipei, 台北國際食品展覽會).
Worldwide, organic meat could generate up to US$5 billion in annual sales, while market demand is slated anticipated to continue growing at an annual rate of 20 percent, the ambassador said.
The Nicaraguan beef sector has a strong orientation towards exportation, and our producers are targeting growing demand for high quality beef with reduced fat content, the ambassador said.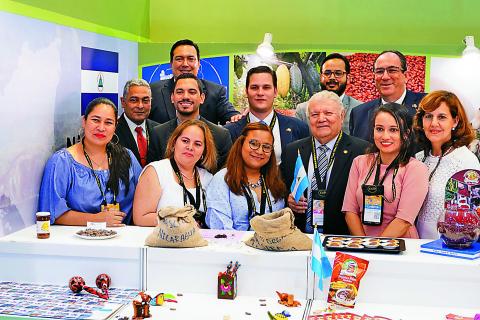 Nicaraguan Ambassador William Tapia Aleman, front row third right, and Taiwan-Nicaragua Chamber of Commerce Representative Enrique Zamora, second row first right, pose for a photo with the Nicaraguan delegation at the Taipei International Food Show.
Photo: Staff
"Nicaraguan organic beef is produced from cattle fed on natural grasses and grains, while our suppliers have already adopted manufacturing practices ensuring that products meet the highest quality and food safety standards and are free of pesticides and synthetic hormonal additives," the ambassador said.
To leverage the benefits of the Free Trade Agreement (FTA), the quality of Nicaraguan exports to Taiwan are backed by certification of origin and a rigorous quality assurance process, he added.
To further the effort, Nicaragua's beef produces, such as Carnes San Martin, has been transitioning to higher value-added beef product segments, said Taiwan-Nicaragua Chamber of Commerce Representative Enrique Zamora, who leads the delegation of 6 companies to the trade show in Taipei.
Zamora, who also serves as a director at Banco LAFISE, said that demand for the lender's export financing services have seen rapid growth in recent years, as Nicaraguan producers raise investments to tap into new markets.
Investments are needed to ensure that all new products can retain quality over the 45-day journey on the seas to Taiwan, Zamora said.
This year, the Nicaraguan delegation is also showcasing cooked and raw whole lobsters and lobster tails, fresh and frozen whole fish, the ambassador said.
Nicaraguan will also be showcasing organic cocoa, whole grains, red silk beans, and black beans, as well as honey, the ambassador said, noting that the products are part of efforts at meeting the rising demand for more health conscious consumers.
He added that the products mentioned above are among the top export products to Taiwan, and are synonymous with superior quality in the Taiwan market.
The ambassador said Nicaraguan products can bring cost savings in raw material import cost reductions that may aid Taiwan's efforts at expanding its exports.
Nicaragua and Taiwan's trade relations date back several decades, beginning with a bilateral trade agreement signed in 1967 and an Economic Complementation Agreement signed inked in September, 1997, he added.
Comments will be moderated. Keep comments relevant to the article. Remarks containing abusive and obscene language, personal attacks of any kind or promotion will be removed and the user banned. Final decision will be at the discretion of the Taipei Times.