Ko Wen-je to attend Shanghai forum
'SMART CITY' PLANS: The Taipei mayor is to make a speech at the Taipei-Shanghai Forum on July 2, the day after the 90th anniversary of the Chinese Communist Party
The Taipei City Government yesterday confirmed that Mayor Ko Wen-je (柯文哲) is to attend the Taipei-Shanghai Forum in China and make a speech at its July 2 opening ceremony.
The annual twin-city forum between Taipei and Shanghai is to be held at the Shanghai Oriental Riverside Hotel's International Convention Center, where Ko is expected to meet Shanghai Mayor Ying Yong (應勇), Taipei City Government spokesperson Liu Yi-ting (劉奕霆) said yesterday.
This year's forum is to focus on the theme of a "healthy city," with community hygiene, environmental protection, "smart cities" and lifestyle services, and youth entrepreneurship being the four other main topics to be discussed, Liu said.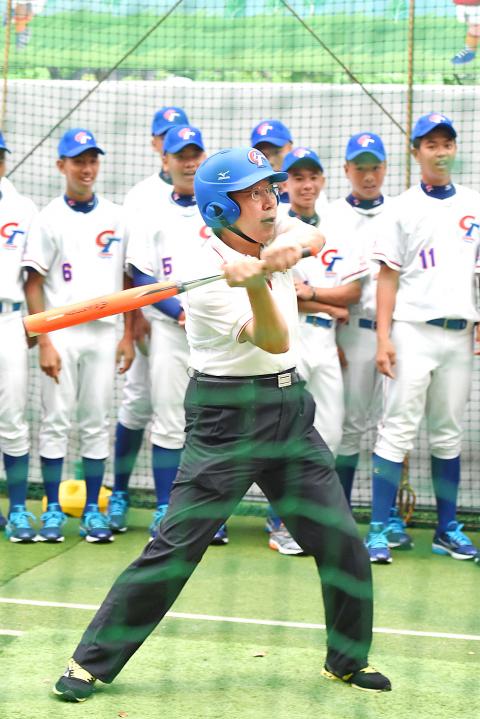 Taipei Mayor Ko Wen-je, front, on Saturday takes aim at a ball during a flag presentation ceremony at Taipei's Dongyuan Elementary School ahead of this year's Little League Baseball Asia-Pacific Regional Tournament in South Korea.
Photo: Liu Hsin-de, Taipei Times
Four memorandums of understanding are expected to be signed between the two cities, he said.
The agreements are expected to be on academic exchanges between National Taipei University and Shanghai University, exchanges of development ideas focused on Taipei's Neihu District (內湖區) and Shanghai's Pudong New Area (浦東新區), promotion of basketball as a major sport, and protection of consumers' rights, he said.
Community hygiene was chosen as a topic because both cities are facing the challenge of an aging society and trying to establish comprehensive healthcare systems including community health and long-term care policies, Liu said, adding that air quality protection and environmental monitoring technology would also be addressed.
The two mayors are to discuss ways of using big data analysis to improve city governance and development, approaches to livelihood problems and establishing a platform for cross-strait exchange between young people, Liu said.
Taipei City Government deputy spokesperson Chen Hsi-yu (陳思宇) said the biggest difference between this year's forum and those in the past is that a sub-forum for young people is to be held, with interactions expected to be on "softer" topics.
Asked about the timing of the announcement and the decision to stage the conference the day after the 90th anniversary of the founding of the Chinese Communist Party (CCP) on July 1, Chen said the two cities decided yesterday morning to make an announcement, adding that they did not purposely avoid the CCP's anniversary when negotiating the date.
"Exchange between the two mayors is what we plan to focus on at the twin-city forum in Shanghai this year, and negotiations will be conducted in accordance with Ko's emphasis on the principles of equality and dignity," she said.
Asked whether Ko and Ying would hold private talks at the forum, Chen said that the itinerary for the meeting would be open and transparent.
The details of the itinerary are still being negotiated and would be announced in the following days, she said.
Comments will be moderated. Keep comments relevant to the article. Remarks containing abusive and obscene language, personal attacks of any kind or promotion will be removed and the user banned. Final decision will be at the discretion of the Taipei Times.