Labor, insurance changes should be avoided: groups
The extraordinary legislative session should avoid further amendments to the Labor Standards Act (勞工基準法) and Labor Insurance Act (勞工保險條例), protesters said yesterday outside the Legislative Yuan in Taipei.
A march by dozens of people affiliated with the Workers' Struggle Alliance and local labor confederations was led by three "clowns" wearing placards representing Democratic Progressive Party (DPP) labor, pension and long-term care positions as part of a protest against the policies of President Tsai Ing-wen's (蔡英文) administration.
"We are holding this protest because we hope that the Tsai administration will stop making U-turns based on what corporations think of issues," Hsinchu County Confederation of Trade Unions president Chan Su-chen (詹素貞) said.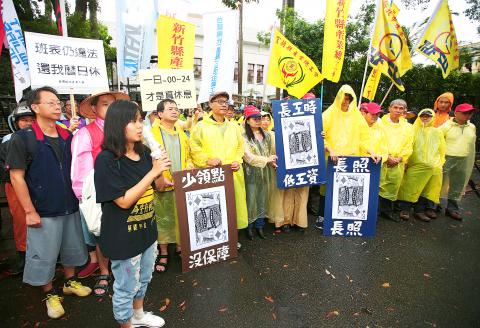 Protesters hold signs outside the Legislative Yuan in Taipei yesterday accusing the Democratic Progressive Party government of not protecting workers' rights.
Photo: CNA
Others said that DPP legislators have introduced amendments to the Labor Standards Acts that would open a "back door" to overtime rules passed last year.
DPP plans to revise the Labor Insurance Act to cut benefits as part of broader pension reforms also drew criticism.
"Although committee review has not begun, the bill is fundamentally a continuation of the past Chinese Nationalist Party [KMT] administration's version, cutting benefits while raising contributions," alliance member Chen Ming-chen (陳姳臻) said, calling on the DPP to consider moving away from the existing pension system by funding them directly from tax revenue.
Many of the nation's numerous pension funds — including National Labor Insurance — are expected to go bankrupt in the next decade because of unbalanced contribution-benefit formulas.
Alliance member Hsu Chun-huai (許淳淮) said that long-term care plans force much of the burden of care onto families and foreign caregivers.
Hsu criticized proposals for sources of revenue.
"Instead of directly increasing taxes on corporations, the Tsai administration has instead chosen to raise real-estate and tobacco taxes, which are both extremely unstable," he said. "In the case of the new tobacco tax, much of the burden will fall onto low-income earners, who make up the majority of smokers."
New Taipei City Confederation of Trade Unions president Hung Ching-fu (洪清福) called for the swift passage of a law regulating contract labor to guarantee "equal pay for equal work" and give people the right to be hired as regular employees after a certain time.
Comments will be moderated. Keep comments relevant to the article. Remarks containing abusive and obscene language, personal attacks of any kind or promotion will be removed and the user banned. Final decision will be at the discretion of the Taipei Times.