Turtles drowned by fishing net in Barclay Memorial Park pond
An illegal fishing net in Tainan's Barclay Memorial Park reservoir has killed 23 turtles, which drowned after becoming trapped, park representatives said on Monday.
Chongming Borough (崇明) Warden Lee Jen-tzu (李仁慈) told the city's Public Works Bureau about the incident on Saturday and an investigation was launched, the bureau said.
Officials removed a 6m-long fishing net from the reservoir, the bureau said, adding that it was destroyed.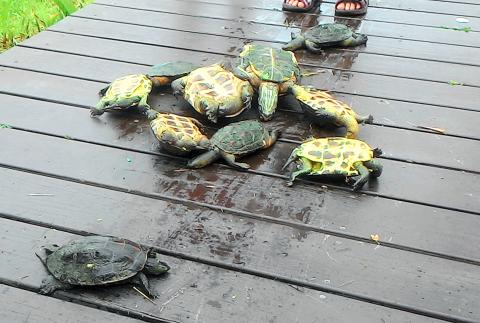 Dead turtles lie on a boardwalk on Saturday at Barclay Memorial Park in Tainan's East District after being trapped and drowned in an illegal fishing net.
Photo: copied by Tsai Wen-chu, Taipei Times
Lee, who sponsors the park, said the detention pool where the net was placed is part of late additions made to the park, which has won design awards.
The reservoir is home to tilapia, which are coveted because they grow quite large in the park, Lee said.
"No fish were caught in the net, just the turtles, which drowned because they could not reach the surface to breath," Lee said.
Lee said the turtles were discovered by park visitors, who said the turtles were trapped underwater and not moving.
Last month a person was allegedly found showing children how to use a butterfly net to catch fireflies in the park's firefly conservation area.
"This disorderly behavior destroys the park's ecological environment. The public needs to improve its sense of responsibility toward protecting the environment and following the law," Lee said.
Catching fish in a public park can attract fines of up to NT$6,000 in accordance with the Regulations on Park Management and Autonomy (公園管理自治條例), the bureau said, adding that it would improve public notifications about park rules.
Comments will be moderated. Keep comments relevant to the article. Remarks containing abusive and obscene language, personal attacks of any kind or promotion will be removed and the user banned. Final decision will be at the discretion of the Taipei Times.