Tsai urged to proclaim independence
NEW BLOOD: Amid public dissatisfaction, Tsai should reshuffle the Cabinet as her ministers are apparently incapable of executing her policies, Chen Nan-tien said
Saying her administration has sidestepped the issue, pro-independence groups yesterday urged President Tsai Ing-wen (蔡英文) to proclaim the nation's independence and sovereignty.
Tsai should use the first anniversary of her inauguration to announce that Taiwan is an independent country to express the nation's sovereignty, former representative to Japan Lo Fu-chen (羅福全) said.
"Tsai's refusal to accept the '1992 consensus' last year has solidified the fact that Taiwan is not part of China, but a formal affirmation of Taiwan's independence in Tsai's capacity as president is needed," Lo said.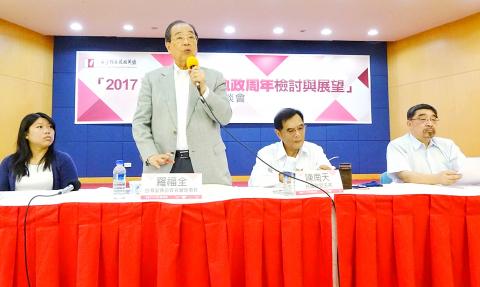 Former representative to Japan Lo Fu-chen, second left, speaks at a seminar at National Taiwan University yesterday, accompanied by members of pro-independence groups, including World United Formosans for Independence chairman Chen Nan-tien, second right.
Photo: Chu Pei-hsiung, Taipei Times
The government should also enact an "anti-annexation" act to counter Beijing's increasingly aggressive infiltration of Taiwan, he added.
China cannot resort to military means to annex Taiwan in the current international environment, but it has penetrated Taiwan with its espionage, media and business influence, he said.
Although Taiwan is tied to the defense networks of the US, Japan and South Korea, it has to come up with domestic legislation to stem Beijing's extra-military attempts to annex Taiwan, Lo said.
Taiwan will never become disentangled from China if it continues to identify itself as the Republic of China, "Chinese Taipei" or "China Taipei," World United Formosans for Independence chairman Chen Nan-tien (陳南天) said, adding that the nation must formally rename itself "Taiwan" and seek international participation under that title.
"It is time to campaign for name rectification and international participation — in particular, formal UN membership — under the name 'Taiwan,'" Chen said.
"The nation for the first time now has more than 75 percent of its people saying that Taiwan should be independent from China," he said. "Tsai should seize such a good opportunity, and if she fails, her administration would be faced with bad [election] outcomes."
Amid growing public dissatisfaction, Tsai should consider reshuffling the Cabinet as the ministers are apparently incapable of executing her policies, he said.
Although Tsai has pledged to maintain the "status quo" in cross-strait relations, the Ministry of Health and Welfare did not issue a clear response when China, citing UN General Assembly Resolution 2758, claimed that Taiwan was part of China and should be excluded from an upcoming World Health Assembly meeting, demonstrating that the Cabinet is incapable of upholding Tsai's political ideals, Chen said.
Tsai's administration, despite having reiterated its willingness to communicate with the public, has provoked conflicts across social boundaries, as it has obscured, and in some cases flip-flopped on, policy direction and execution, National Dong Hua University professor Shih Cheng-feng (施正鋒) said.
The government has been inconsistent on its stance on same-sex marriage and unable to simplify its labor policy and has also created conflicts over pension reform, Shih said.
In addition, Tsai has closely controlled Democratic Progressive Party lawmakers to smooth the way for policies to become law, completely ignoring the principle of the separation of executive and legislative powers, he said.
Worst of all for the nation's democracy, Tsai has also sought to influence the media by developing a rapport with media tycoons, Shih said.
The so-called "1992 consensus" is a term that former Mainland Affairs Council chairman Su Chi (蘇起) has said he made up in 2000.
Comments will be moderated. Keep comments relevant to the article. Remarks containing abusive and obscene language, personal attacks of any kind or promotion will be removed and the user banned. Final decision will be at the discretion of the Taipei Times.