Detained activist's wife to focus on international help
The wife of detained rights activist Lee Ming-che (李明哲) has told the BBC's Chinese-language Web site that she plans to seek international help to win her husband's release instead of trying to reach a private understanding with Beijing.
In the interview, which was conducted late last month, but only released on Tuesday, Lee Ching-yu (李凈瑜) talked about how she and her husband met and his health problems.
Lee Ching-yu said her appeals to the international community were aimed at maximizing the exposure for her husband's case through the media and academics.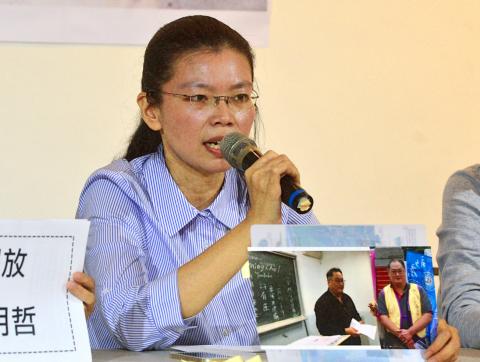 Lee Ching-yu, the wife of human rights advocate Lee Ming-che, who is being detained in China, talks at a news conference in Taipei on April 4.
Photo: Wang Yi-sung, Taipei Times
Lee Ming-che was detained by Chinese authorities after entering Zhuhai via Macau on March 19.
He used to work for the Democratic Progressive Party and is now on the staff of Wenshan Community College in Taipei and a volunteer for a local nongovernmental organization, Covenant Watch.
While China has confirmed he is being held, it has not said why or where, except for vague references to matters related to China's national security.
In the interview, Lee Ching-yu recounted how a Taiwanese man, Lee Chun-min (李俊敏), who she said was head of the "Cross-strait Exchange Center," had on April 7 brought her a copy of a letter purportedly from her husband, but she refused to accept it because she though it was fake.
She said she also rejected conditions that Lee Chun-min told her were being offered by the Chinese authorities for the conditional release of her husband because she was afraid Beijing would then accuse him of any number of false charges.
International help is the only way her husband is likely to be released, she told the BBC.
She said she still hopes the government will work with a third country to help win her husband's freedom.
Comments will be moderated. Keep comments relevant to the article. Remarks containing abusive and obscene language, personal attacks of any kind or promotion will be removed and the user banned. Final decision will be at the discretion of the Taipei Times.