Reform committee rejects bid to decriminalize drugs
'PUBLIC HEALTH ISSUE': The government should not punish people for using drugs and consider whether drug users are patients or criminals, Ewam Lin said
A prison officer's recommendation for Taiwan to decriminalize cannabis and narcotics was hotly debated at a judicial reform meeting yesterday, but participants concluded that the nation is not ready for such a move and decided to consider proposals to lower the thresholds for penalties for drug possession.
At a meeting at the Presidential Office's fifth judicial reform subcommittee, Yilan Prison's Guard and Control Section officer Ewam Lin (林文蔚), a 47-year-old prison reform advocate, called for the decriminalization of narcotics.
He raised the proposal for subcommittee members to consider and presented a report outlining his viewpoints and recommendations on how to decriminalize narcotics.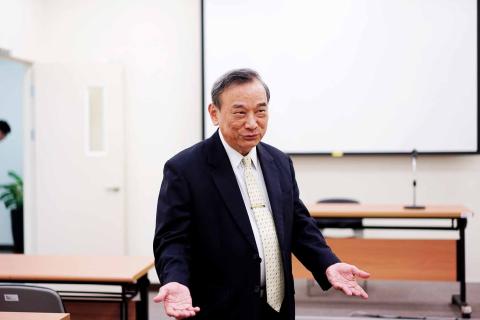 Deputy Minister of Justice Chen Ming-tang yesterday gestures at a meeting in Taipei.
Photo: Huang Hsin-po, Taipei Times
Lin said the government's hardline policies against narcotics are not working and the term "narcotics" has a highly negative connotation.
Voicing the need to change the harsh anti-narcotics policy, Lin said people should not be criminalized or jailed for simply using drugs and that the government should consider whether the users should be deemed patients or criminals.
He urged the government to decriminalize drug use and treat the matter as a public health issue instead of a criminal one.
Citing examples from the Netherlands and other nations where narcotics are divided into "soft drugs," such as cannabis, and "hard drugs," such as cocaine and heroin, Lin said cannabis is considered a "soft" narcotic because it has a low impact on the human body.
"The Dutch government treats use of various forms of cannabis as a public health issue, similar to its approaches to smoking and alcohol use," he said.
The government has spent a vast sum of money fighting drugs, with numerous publicity campaigns, advertisements and educational seminars at schools, Lin said, adding that it would be better to focus on people with drug addiction who have been going in and out of prisons.
However, Deputy Minister of Justice Chen Ming-tang (陳明堂) responded to Lin's proposal by saying that although some nations are working toward decriminalizing drugs, Taiwan is not ready for such a move, as it would render it more difficult for the authorities to monitor people with addictions and for police to crack down on illegal drug trafficking.
Subcommittee members reached five decisions, including holding discussions on lowering the 20g penalty threshold for possessing drugs classified as Grade 3 and Grade 4; setting up a drug prevention fund and a related body under the Executive Yuan to monitor and coordinate prevention resources for different government agencies.
Committee members also called on the government to put more resources into helping drug addicts overcome their addiction and re-enter society.
Comments will be moderated. Keep comments relevant to the article. Remarks containing abusive and obscene language, personal attacks of any kind or promotion will be removed and the user banned. Final decision will be at the discretion of the Taipei Times.