Johanne Liou sentenced to three-month jail term for perjury over 'Next' lawsuit
A woman who joined a 2014 rally in support of the Sunflower movement only to find that her looks drew the attention of photographers and others was yesterday found guilty of perjury and sentenced to three months in prison by the Taipei District Court.
Johanne Liou (劉喬安), who some media outlets had misleadingly nicknamed "the Sunflower Queen," had sued the Chinese-language weekly Next Magazine and one of its reporters for defamation, offenses against personal privacy and violations of the Personal Information Protection Act (個人資料保護法) over a report that said she had worked as an escort and was involved in the sex trade.
In her lawsuit, Liou said she had been set up by the reporter, who used a hidden camera to record their conversation at a Taipei hotel in 2014, and denied claims that she had been sent to the hotel by an escort agency for sex for a NT$100,000 fee.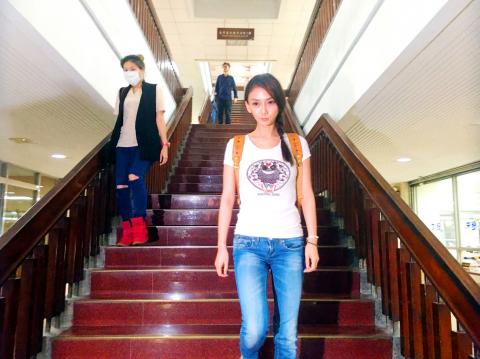 Johanne Liou leaves the Taipei District Court on June 28 last year.
Photo: Chang Wen-chuan, Taipei Times
When questioned by prosecutors, Liou said she was a saleswoman for a brand-name liquor and accused the magazine of defaming her.
However, prosecutors said that after examining the video recorded by the reporter, statements from witnesses, and Line message records between Liou and the reporter, they decided she had not been telling the truth.
Faced with the evidence presented by prosecutors during the trial, Liou admitted to making false statements to prosecutors.
The district court verdict said that Liou, 32, was guilty of falsifying evidence in an investigation and sentenced her to a prison term that cannot be commuted to a fine.
However, it is the first ruling in the case and it can be appealed.
Liou was found guilty in June last year in a separate case of working for an international prostitution ring and received a six-month suspended sentence.
Comments will be moderated. Keep comments relevant to the article. Remarks containing abusive and obscene language, personal attacks of any kind or promotion will be removed and the user banned. Final decision will be at the discretion of the Taipei Times.