Foundation urges overhaul of prosecutorial system
The Judicial Reform Foundation yesterday called for an overhaul of the prosecutorial system, proposing measures to enhance oversight and address deficiencies in the system.
"We need a complete reform of the prosecutorial system, which needs to have a better oversight mechanism," foundation president Joseph Lin (林永頌) said. "The changes are necessary to make prosecutors truly independent and to restore the public's faith in the judicial system."
Lin said that for the past two decades, the foundation and other legal reform campaigners have highlighted major flaws in the prosecutorial system.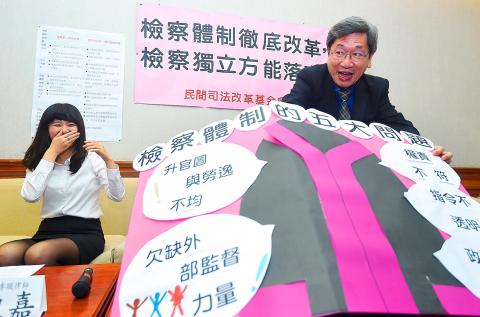 Judicial Reform Foundation lawyer Huang Ying-chia, left, laughs during a news conference in Taipei yesterday as foundation president Joseph Lin explains demands an overhaul of the nation's prosecutorial system.
Photo: Liao Chen-huei, Taipei Times
He cited five major issues: disparity between prosecutors' authority and responsibility; lack of transparency; disparity between promotion and workload; lack of an oversight mechanism; and political interference.
Lin said the justice system already has the Judges' Act (法官法) to define the bounds of jurisdiction and responsibility, and prosecutors need something similar.
The foundation has been pushing for these changes since 1998 and last year tabled a draft "organic act for the prosecutorial system."
"Taiwanese have long complained of the many problems plaguing the courts, judges, prosecutors and lawyers. The best way to change and improve the prosecutorial system is to approve this bill to change the working environment and clearly define prosecutors' roles in the justice system," Lin said.
Foundation executive director Kao Jung-chih (高榮志) said that the proposed bill calls for a restructuring of the prosecutorial system into two tiers — instead of the current three: district, high court and supreme court.
"Nationwide, we have 1,014 prosecutors at the district level, less than 700 of whom are in charge of criminal prosecution. By reducing it to a two-tier system, we can assign more prosecutors to the district level to alleviate the shortage in public prosecution of criminal cases," Kao said.
The proposal also calls for integrating the functions of prosecutors to cover both investigation and prosecution, as opposed to the current system in which one prosecutorial team is in charge of investigation, while another deals with public prosecution.
The foundation also suggested opening the committee that evaluates prosecutors to include legal experts and professionals from related fields.
This would enhance scrutiny of prosecutors' performance, especially those who have received many public complaints, to root out prosecutors found to have questionable ethics, have mishandled a case or have broken the law, the foundation said.
Comments will be moderated. Keep comments relevant to the article. Remarks containing abusive and obscene language, personal attacks of any kind or promotion will be removed and the user banned. Final decision will be at the discretion of the Taipei Times.