'Gezai' fan learns to craft instruments
HUMBLE: The true maestros of Taiwanese opera never stand out from the crowd and usually know how to make their own instruments to some degree, Lin Tsung-fan said
A passion for Taiwanese gezai opera (歌仔戲) led 27-year-old Lin Tsung-fan (林宗範) to teach himself how to craft the traditional stringed instruments used, and he eventually became one of the top makers in Tainan's Houbi District (後壁).
Lin said he was always good at carpentry, which, along with his interest in traditional opera, gave him the idea that he could make his own instruments, as he could not afford to buy them.
Lin said he visited elderly players in traditional markets near the city's Yanshui District (鹽水) and asked them what kind of wood was used to make their instruments, and a relative also lent him an instrument to serve as a template.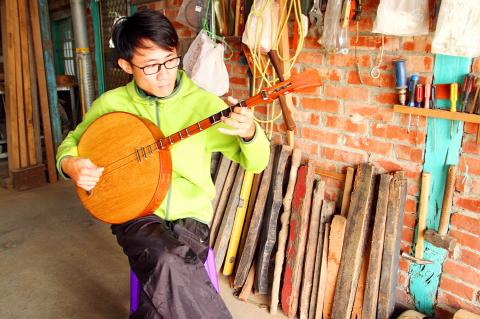 Lin Tsung-fan plays one of his instruments at his workshop in Tainan's Houbi District on Feb. 26.
Photo: CNA
Lin said he made his first stringed instrument in the third year of junior-high school and would meet groups of elderly people and attempt to play along with them.
Although Lin had no formal musical education, he said he soon progressed to the point where he could play a whole piece, adding that by the time he was in high school he was a regular member of a band called the "Elderly club" and gave performances at temple events.
His ability to make instruments did not mature until his high-school years in terms of technique and material selection, Lin said.
True maestros never stand out from the crowd and usually know how to make their own instruments, at least to some degree, Lin said.
Attention to detail is the true definition of a well-made instrument, and it requires hard work and finesse to get it right, Lin said.
Some modern instruments are machine-made, but Lin said he insists on making his instruments by hand, adding that any instrument he has made is carefully tuned and adjusted to reach its full potential.
Pointing to a pile of wood — which looked like a pile of discarded remnants — outside his studio, which also doubles as his residence, Lin said: "These are real treasures."
The wood came from carts made in earlier eras, making the material the right flexibility and density for instruments such as the yueqin or the three-stringed Chinese lute, Lin said.
Many instruments on the market are overpriced, as they are made from imported wood, but many trees in Taiwan produce perfect wood for instruments, such as the cypress or the beech, Lin said.
The allure of gezai opera is that it is not "immutable like Western classical music," but relies more on the intuition of musicians, and because of this, each musician needs a good instrument that they feel is "right," Lin said.
Lin pointed to the first instrument he made, which has since had the strings removed, and said that there is a lack of new blood in the instrument-making business, but he believes that the craft will not die out.
From time to time, there will be those, like me, who will take up the craft and pass it down to others, Lin said.
Comments will be moderated. Keep comments relevant to the article. Remarks containing abusive and obscene language, personal attacks of any kind or promotion will be removed and the user banned. Final decision will be at the discretion of the Taipei Times.