Conflict rising due to NPA failure: DPP
TIME TO REST The agency director-general, who has been in his position since the former KMT administration, has been asked to resign and let the Cabinet do its job
Democratic Progressive Party (DPP) legislators yesterday criticized the National Police Agency for what they called its failure to enforce protest regulations, which has given rise to organized crime and conflict between the public and police.
Hong Kong democracy campaigner Joshua Wong's (黃之鋒) visit to Taiwan in January was marked by violent protests allegedly organized by criminal groups, while a peaceful demonstration last week commemorating the 228 Incident in Taipei was disrupted by alleged gang members, DPP Legislator Lo Chih-cheng (羅致政) said.
"The agency's failure to prevent violence could threaten freedom of speech and freedom of association, the most important values of a democracy," Lo said.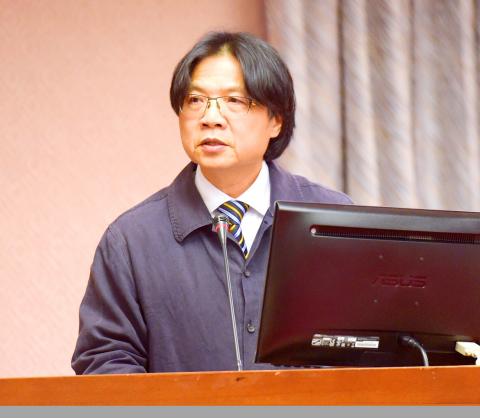 Minister of the Interior Yeh Jiunn-rong yesterday attends a Internal Administration Committee meeting at the Legislative Yuan in Taipei.
Photo: Huang Yao-cheng, Taipei Times
"Tolerance of different opinions is valuable in Taiwan, but peace is the underlying principle. It is unacceptable that violence was used on those with differing opinions. We demand that the agency take a tougher stance on protest regulations and criminal activities camouflaged as protests," Lo said.
The "fake" protests staged by suspected criminal groups — possibly dictated to and financed by Beijing — should be taken seriously and not be allow to happen again, DPP Legislator Chiang Yung-chang (江永昌) said.
"The recurrence of such 'protests' cause public aversion to protests that are otherwise a peaceful expression of opinion," Chiang said.
The agency has been unable to prevent protests from escalating into violence since the DPP administration was sworn in last year, with a number of protests marked by physical violence and conflicts, DPP Legislator Shih Yi-fang (施義芳) said.
The agency has failed to enforce President Tsai Ing-wen's (蔡英文) drug policies over the past year, and to crack down on telecom fraud rings that hurt Taiwan's international reputation, Shih said.
"The underperformance of the agency suggests that agency Director-General Chen Kuo-en (陳國恩) has a mindset inherited from the former government, and the new government has to take the blame," Shih said. "The director-general must be tried. It is recommended he take some rest and not to hold the Cabinet back any longer."
It was the latest in a series of criticism against the agency, notably from DPP legislators closely affiliated with Tsai.
DPP Legislator Wang Ding-yu (王定宇) called a news conference in January condemning the agency for the violence against visiting Hong Kong councilors and activists by suspected gang members, with Chen being the prime target of criticism and asked to resign.
Minister of the Interior Yeh Jiunn-rong (葉俊榮), Chen's supervisor and overseer of the agency, said that the agency was on top of protest situations and Chen has always been in charge of protest management.
"Chen has endeavored to ensure peace during protests and he is often seen personally directing officers at protests," Yeh said. "The police deserve more encouragement."
Police have achieved much in terms of drug prevention, with the number of people arrested for illegal drug activities this year higher than the same period last year, Yeh said.
Comments will be moderated. Keep comments relevant to the article. Remarks containing abusive and obscene language, personal attacks of any kind or promotion will be removed and the user banned. Final decision will be at the discretion of the Taipei Times.