228, PAST AND PRESENT: Chiang statue damaged at Fu Jen
YEARLY PROTEST: University student Lo Yi said statues of Chiang Kai-shek are tampered with every year and restored, but they should be toppled 'once and for all'
Three students and a fourth person were arrested at New Taipei City's Fu Jen Catholic University at 1am yesterday after allegedly attempting to topple a bronze statue of Chiang Kai-shek (蔣介石) and obstructing police officers.
Equipped with an angle grinder, a generator and a rope, student Lo Yi (羅宜) allegedly began cutting the statue at 12:30am, which drew the attention of university guards.
Officers from the Sinjhuang Precinct's Fuying Police Station arrived minutes later.
Notes bearing the names of 228 Incident victims are plastered on a damaged bronze statue of Chiang Kai-shek at Fu Jen Catholic University in New Taipei City yesterday.
Photo: CNA
Precinct investigation brigade head Chang Chun-ming (張俊明) told the students that their actions were in breach of the Social Order Maintenance Act (社會秩序維護法) and constituted vandalism, adding that they would be arrested if they did not stop.
A crowd near the statue told officers that they had no right to arrest students on campus unless the university gave them permission.
Chang said that the officers were acting on a request by the university.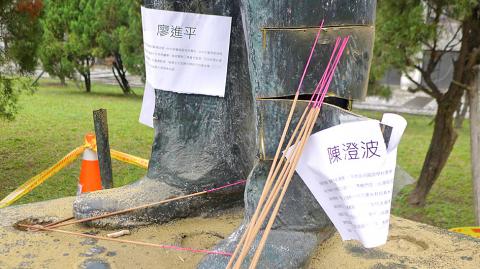 Notes with names and details of 228 Incident victims were attached to the damaged legs of a bronze statue of Chiang Kai-shek at Fu Jen Catholic University in New Taipei City yesterday.
Photo: Lee Ya-wen, Taipei Times
Chang and several colleagues engaged in a loud exchange with Lo and others. They pulled Lo away from the statue, prompting scuffles.
Lo and another student, surnamed Chen (陳), were subdued by several officers and handcuffed.
A woman, surnamed Chen (陳), who the police said was "making irrational remarks," was also handcuffed.
Another student, surnamed Lin (林), who was taking photographs at the scene, was also detained.
Lo was detained for breaches of the act, while the others were obstructing police officers in the course of their duties, Chang said.
They were taken to the precinct for questioning and at 8am were sent to the New Taipei City District Prosecutors' Office.
They were later released after the university said it would not file charges.
Lo made a hole near a foot of the statue and broke a cane Chiang holds, the university said, adding that repairs would cost about NT$5,000.
Lo said that statues of Chiang on campuses nationwide are defaced or tampered with by students ahead of Feb. 28 every year and are restored.
However, it is time they are toppled "once and for all," he said.
Comments will be moderated. Keep comments relevant to the article. Remarks containing abusive and obscene language, personal attacks of any kind or promotion will be removed and the user banned. Final decision will be at the discretion of the Taipei Times.